Food in the Field gives a sneak peek into what CNN's team is eating, and the food culture they encounter as they travel the globe. Jeremy Harlan is a CNN photojournalist. He has a hungry baby and he loves Vienna sausage.
Ever wonder how the press corps keeps their stamina as they trek from stump to stump with presidential hopefuls? Our Jeremy Harlan is keeping a detailed food diary as he's embedded with Mitt Romney's campaign. Read diaries from days One, Two, Three and Four

5:43 a.m. EDT: We have the standard Marriott breakfast spread this morning in Norfolk, Virginia: scrambled eggs, potatoes, bacon, sausage links, oatmeal, fresh fruit and biscuits.
Take note that I didn't include gravy for said biscuits. How do you put out biscuits without gravy to smother them with? SMH.
8:23 a.m. EDT: Choices for the plane breakfast between Norfolk, Virginia and Milwaukee, Wisconsin are cheesy potatoes with ham and a side of yogurt or sweet potato hash with....forget it, I'm going back to sleep. Wake me up when we land or the Governor comes back to make a statement.
11:25 a.m. CDT: All I wanted from our quick stop in West Allis, Wisconsin was some cheese curds and maybe a bratwurst. Is that too much to ask? Instead, the press was offered more breakfast. Eggs, sausage, breakfast burritos, potatoes, fruit, and pastries.
I'd post a picture, but I was too bummed to take one. Headed back to airport. And if anyone in Ohio at our next events is reading this, I want chili.
12:47 p.m. CDT: Still miffed about the curds, I take the steak Caesar wrap over the tuna salad sandwich at the Milwaukee airport tarmac. Pick me up, Ohio.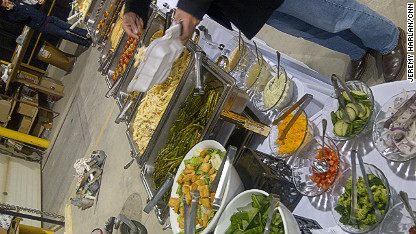 3:43 p.m. EDT: "We have a mashed potato bar for you."
A what?
"A mashed potato bar. You know, like a salad bar for mashed potatoes."
That was a brief discussion with a campaign's advance press person on our ride from the airport to the rally site here in Pataskala, Ohio. So we had high expectations. And when we arrived, we saw our expectations were far exceeded, thanks to Kimberly Frank and the rest of the folks at Made-From-Scratch.
I give you the longest food spread of the week:
Salad bar, asparagus, pasta primavera, parmesan crusted tilapia, "Mama's chicken marsala", breadsticks, mini chicken burgers, mini hamburgers, mashed potato bar (Yukon gold, sweet), mashed potato bar fixings,lemony hummus, Italian skewers, applewood smoked bacon, tomato bisque, spinach dip in a rye bowl, roasted squash, and a build your own signature brownie station.
Read diaries from days One, Two, Three and Four
More from the Romney press corps by CNN's Matt Hoye:
Previously - Paradise by the refrigerator light – Mitt Romney's favorite meatloaf recipe and 'These chorizos are huge!' – how Paul Ryan's sausage gets made and Cast your vote: Red and blue restaurant specials and Can coffee cups predict the presidency?
Catch up on all campaign trail coverage on Eatocracy and see how CNN's Political Team likes to get their political grub on.