Food in the Field gives a sneak peek into what CNN's team is eating, and the food culture they encounter as they travel the globe. Jeremy Harlan is a CNN photojournalist. He has a hungry baby and he loves Vienna sausage.
Ever wonder how the press corps keeps their stamina as they trek from stump to stump with presidential hopefuls? Our Jeremy Harlan is keeping a detailed food diary as he's embedded with Mitt Romney's campaign. Read his Day One and Day Two diaries and Day Five.

Editor's note: Day Three's dispatches are from Wednesday. Eatocracy is NYC-based and we had our hands full.
Day Three
7:35 a.m. EDT: We have a long day ahead in the Sunshine State. Scrambled eggs (with cheese!), bacon, sausage, potato wedges, french toast, pastries and fruit adorned the buffet table this morning. Sadly, no Cubano coffee. But I'm sure we'll endure.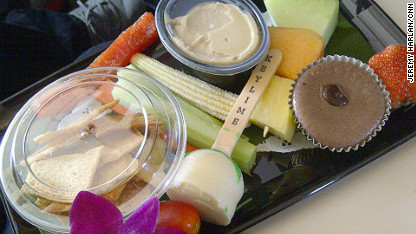 12:14 p.m. EDT: Rally #1 is in the books. As we get closer to next Tuesday, the campaign squeezes in more events per day. And that means the more rallies are held at airports.
The plane rolls up at the Tampa Airport, we get off, Governor Romney makes his speech, shakes some hands, walks back over to the plane and away we go to the next stop.
When we got on the plane this afternoon, we had a choice of a veggie tray or "meat sandwich." I'm happy to have chosen the veggie tray. It consisted of delicious hummus, veggies (including baby corn), a fruit kabob, pita chips, a mini-chocolate cheesecake dessert and some kind of Key Lime pie-on-a-stick-thingamabob.
Verdict on the veggie tray: A perfect snack. Bravo.
Verdict on the Key Lime pie-on-a-stick-thingamabob: Hey, let's go to Miami!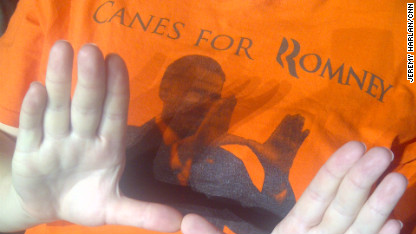 2:14 p.m. EDT: Away from the bright lights of the BankUnited Center in Coral Gables, Forida, a wonderful aroma of authentic Cuban food pulled me into the darkness of our second event.
The University of Miami may be known most for its football program, but its catering department deserves a shot at a national championship in lunch spreads. Fresh greens, black beans and rice, sweet plantains and chicken Milanese started the buffet line strong. But the real star of the game was the beef churrasco with chimichurri Sauce. Oh my goodness, it was amazing from my first helping to my fourth.
I can't even tell you what was sitting on the table past the beef because I never even gave it a glance. Wish we could stay for a Cubano coffee, but we're racing back to the airport. Big props to the "U".
5:10 p.m. EDT: This in-flight menu somewhere between Tampa and JAX is simple:
Caesar Salad with Shrimp (I no like the crustaceans.)
Tortellini Skewer (A what?)
Veggie Wrap (C'mon I, already had the veggie platter)
Candy Corn (I don't care if it is Halloween...no way.)
5:45 p.m. EDT: Well, if I could describe your standard press food spread menu, this one (pictured above) at Jacksonville Airport FBO would be it: Roasted chicken, steamed vegetables, rice and cheese cake.
I can't say that it wins on originality. But, since we have two hours to sit around until the next event, I might as well make a plate.
9:09 p.m. EDT: Our last meal of the night in Jacksonville, Florida is a selection of miniature bites: mini chicken quesadillas, mini beef Wellingtons, mini Caprese salad, mini sesame-seared tuna and many mini cheeses.
That's a pool food lid for the day. And I made it without any over-used and unnecessary Halloween puns.
Day Four
5:15 a.m. EDT: It's early in Jacksonville and we're already in motion. No time for a hot breakfast buffet, just a few pastries boxed up to go.
There's no truth to the dirty rumor of the French network guys stealing all the croissants.
8:15 a.m. EDT: I can't tell you exactly what was offered on the plane this morning, somewhere over Georgia. But I think in my half-sleep I heard the choices were a bagel with all the fixings or granola with yogurt.
I chose the pillow.
10:23 a.m. EDT: Our first event of the day is inside the Marvin Windows and Doors manufacturing facility. The fine folks here in Roanoke, Virginia put out an impressive fresh fruit spread and muffins. Someone must have told them about all the mini-beef Wellingtons I ate last night in Jacksonville. Some healthy fruit couldn't hurt today.
We have some boxed sandwiches also waiting for us when we hop in the motorcade van for the ride back to the Roanoke airport.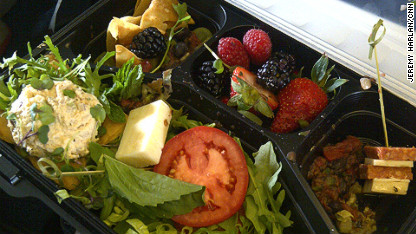 11:27 a.m. EDT: We're back on the plane in Roanoke and about to depart on a rigorous 19-minute flight to Richmond. As for lunch, my choice is the chicken salad croissanwich I stashed in my coat pocket from the motorcade lunch box or a mysterious platter sitting on my plane seat.
You can take guesses from the picture above but I'll give you the spoiler....SPOILER ALERT.
I guess the theme here was Southwestern. It had tortilla chips with a black bean salsa, chipotle chicken salad in a mini-tortilla bowl, fresh berries and two pepperoni and Swiss cheese skewers. I'm still guessing how exactly the skewers fit in.
I went for the platter and out of guilt for the person who put it together, had a bite of the chicken salad sandwich.
Additional Note: The campaign staff made a run for the border and are now eating Taco Bell at the front of the plane. Now we can take off.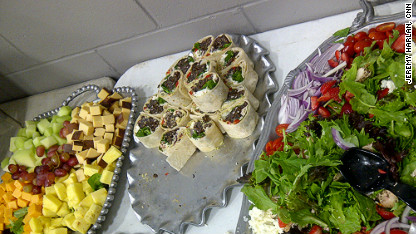 2:27 p.m. EDT: It's hard to judge exactly how good the press food spread was today at our Richmond, Virginia event. By the time I and the rest of the protective pool arrived to the site, the rest of the travelling press had devoured a good portion of the food, including all the mac 'n' cheese.
What was left by the time I rolled up was some fresh greens, various veggie wraps, and some fresh fruit. I had a little of the roughage, but nothing else inspired me.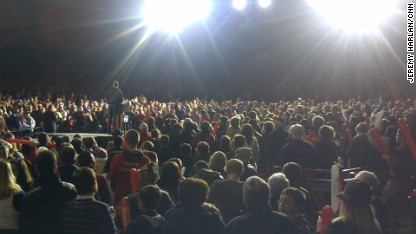 7:37 p.m. EDT: Despite all her duties as network pool producer, Rachael Streitfeld is always looking out for Khalil and me on the food front. While we're getting video of Governor Romney's rally in Virginia Beach, Rachael e-mailed us with tonight's menu:
"Should I get you dinner? Veggie pasta, mac 'n' cheese, chicken piccata, shrimp and scallops?"
Thinking we'll see food at our hotel in Norfolk, Khalil and I just want a sampling of mac 'n' cheese. Rachael's already a step ahead and has a box with everything and a simple message: "Get Ready."
9:47 p.m. EDT: I'm going to make this really quick because I'm really tired and have to be up really early tomorrow for our flight to Milwaukee.
Heavy Appetizer menu at hotel in Norfolk, Virginia:
Roasted Veggie Tray
Bruschetta
Asparagus/Chive Cream Pastries
Asian Chicken Strips (?)
Meatballs
Bacon-Wrapped Scallops
Shrimp Tempura
Romney Cupcakes
Vodka Gimlet (my personal addition)
Read Jeremy's Day One, Day Two and Day Five diaries.
More from the Romney press corps by CNN's Matt Hoye:
Previously - Paradise by the refrigerator light – Mitt Romney's favorite meatloaf recipe and 'These chorizos are huge!' – how Paul Ryan's sausage gets made and Cast your vote: Red and blue restaurant specials and Can coffee cups predict the presidency?
Catch up on all campaign trail coverage on Eatocracy and see how CNN's Political Team likes to get their political grub on.