Food in the Field gives a sneak peek into what CNN's team is eating, and the food culture they encounter as they travel the globe. Jeremy Harlan is a CNN photojournalist. He has a hungry baby and he loves Vienna sausage.
Ever wonder how the press corps keeps their stamina as they trek from stump to stump with presidential hopefuls? Our Jeremy Harlan is keeping a detailed food diary as he's embedded with Mitt Romney's campaign. Read day one's diary.

8:16 a.m. EDT: It's a cold, wet and blustery morning. That's the perfect recipe for some steel-cut oatmeal from the buffet spread here at the Marriott in Dayton, Ohio. It's hard to turn down eggs, bacon, sausage links, and potatoes. But I must have some sort of discipline today.
Oh, and the coffee is much better than yesterday.
On second thought, I may have to re-evaluate on a slice of bacon or two.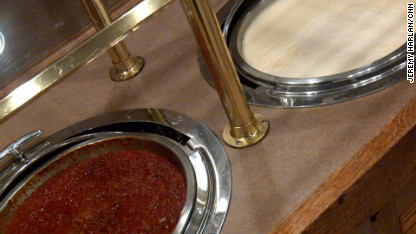 1:25 p.m. EDT: It's been over five hours since breakfast. That is practically a food drought on a campaign embed.
After our event on the other side of town, we're back at the Marriott in Dayton, Ohio. The warm breakfast spread has been replaced with some pasta options. You could practically take a bath in the large bowl of cream sauce.
I'm still debating whether to dig in before we head to the airport and warmer weather.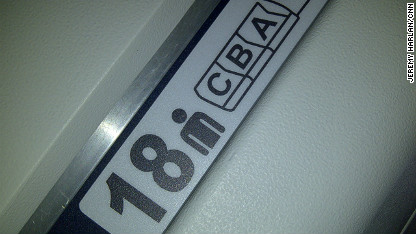 4:25 p.m. EDT: The race for the last two salads on the Romney plane (somewhere between Dayton and Tampa) is on. The crew just asked Row 15 (Correspondent's Row) what they'd like for lunch on the flight: the salads, BBQ chicken, or veggie lasagna. So I'm going to guess by the time she gets to me in Row 18 (Pool Camera Crew Row) the salads will be off the menu.
4:27 p.m. EDT: Yep, thanks in part to my wonderful colleague Jim Acosta, no greens are going past Row 15. In fact, all the lasagna has been spoken for as well. Good thing I had two helpings of bread pudding back at our "first" lunch.
An independent source suggests there may be chocolate covered strawberries on board. If true, those may not get past Row 11.
5:50 p.m. EDT: Ding, ding, ding! We've just hit the jackpot in food spreads for the past two days.
With an official pool lid on the campaign trail today, we arrive at our hotel in Tampa, Florida. And it was ready to welcome us with arms wide open, holding food.
Here's the all-star menu: Mixed greens, seared chicken with butter sauce, braised short ribs, penne pasta with portobello mushrooms, sun-dried tomatoes & pesto, asparagus with sliced almonds and truffles, polenta, a variety of dessert shots and Halloween cookies (pictured above).
Let's dig in; it's dinner time somewhere.
More from the Romney press corps by CNN's Matt Hoye:
Previously - Paradise by the refrigerator light – Mitt Romney's favorite meatloaf recipe and 'These chorizos are huge!' – how Paul Ryan's sausage gets made and Cast your vote: Red and blue restaurant specials and Can coffee cups predict the presidency?
Catch up on all campaign trail coverage on Eatocracy and see how CNN's Political Team likes to get their political grub on.