Peter Biro is a writer and photographer for the International Rescue Committee. He reports on refugee and humanitarian issues in Southeast/Central Asia and Africa.
Tens of thousands of people have fled northern Mali as Islamist militants tighten their grip over the vast desert region. Those who remain face an increasingly desperate humanitarian situation with little access to food, clean water and medicine. The International Rescue Committee and international relief organizations, meanwhile, are struggling to deliver vital aid to suffering Malian civilians.
Over 450,000 people have fled the north since the Islamist takeover and another half-million people inside the country are in need of immediate assistance according to the United Nations and international aid organizations.
"The situation in the north of the country is becoming more and more alarming," said Tasha Gill, who directs the IRC's aid programs in Mali. "Basic services like health centers, water points and schools have stopped functioning. And although food can be found at the market now, many simply cannot afford to buy it. A perfect storm is brewing and thousands need humanitarian assistance."

Mali has been in chaos since March when a coup toppled the country's president, leaving a power vacuum that enabled nomadic Tuareg rebels to seize much of the north. Since then, radical Islamist factions have pushed out the Tuareg rebels and imposed a brutal application of Shariah law, including public beatings, amputations and stoning deaths. The political chaos erupted amidst an already mounting food crisis brought on by a severe drought.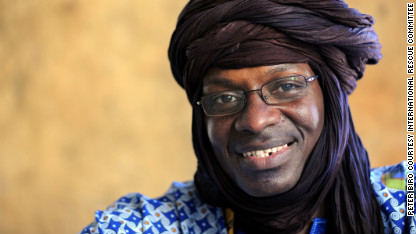 Dicko Hamadoun, directs the IRC's water and sanitation projects in Mali's northern Gao region. "There is a huge need for health care and clean drinking water," he says.
In the midst of these extraordinary conditions, the IRC, working with local Malian aid groups, has managed to deliver vital aid and support to some 80,000 people in the north, including clean drinking water, health care supplies and information, and counseling services for traumatized children.
Mali's crisis has led to the collapse of many public services, especially health care and hospitals.
"There is a huge need for health care and clean drinking water," said the IRC's Dicko Hamadoun, who is directing water and sanitation projects in the northern Gao region. "To make matter worse, we have seen alarming outbreaks of cholera in areas around the Niger river, which many villages depend on for drinking water."
In response, the IRC has trained 125 local volunteers to distribute health and cholera prevention messages in villages throughout the north, along with soap, water purification tablets and other vital supplies. The IRC even managed to convince local authorities to allow it to broadcast health and disease prevention messages on the radio. As a result of these initiatives, the number of new cases of cholera has begun to decline, Hamadoun said.
The IRC, along with its Malian aid partner, GREFFA, is also working to reopen schools which have been shuttered since the crisis began, and to provide services to vulnerable young people, including play and support groups for displaced children.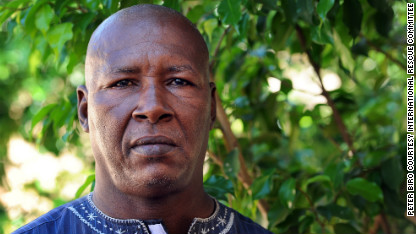 Abdoulaye Alassane runs the IRC's education programs in the Gao region.
"Many teachers fled after the Islamists took over," said Abdoulaye Alassane, who runs the IRC's education programs in the Gao region. "The Islamists have banned music and dance. Girls have been prohibited from participating in sports or outdoor activities."
The closing of schools has left many children on their own and easy prey for exploitation, making it even more urgent to offer children alternative educational programs and activities. Child recruitment is a major concern.
People who have fled the north say the armed groups have little support among the population but worry whether they will ever be able to return home or see normalcy restored.
"I don't know how long we must stay here, but we cannot return until the situation changes," said Fatumata Touré (pictured above), who has taken refuge in a relative's house in a suburb of Bamako, the Malian capital.
"When we left there was a lot of fighting between different groups and no one dared leave their houses," Touré said. "There was looting in the streets. We are afraid and we don't support what is happening now."
"The people of the north feel like they have been abandoned," said Dicko Hamadoun. "Until the situation changes or is resolved, the IRC is determined keep working the best it can. The region needs all the help and attention it can get."
Previously - Crisis in Mali and Bringing a child back from malnutrition