Editor's note: The Southern Foodways Alliance delves deep in the history, tradition, heroes and plain old deliciousness of barbecue across the United States. Dig in.
Like everything in South Carolina, we cook barbeque cantankerously. We smoke our meat with hundreds of opinions and often with a sense of injured pride. Otherwise, it's just different in South Carolina - all the way down to the way we spell it, more often with the garish and trashy "q" rather than the upwardly mobile and buttoned-down "c."
When you mention S.C., people usually want to start a fight about sauces. The whole state is a big messy spill of sauces - there's at least four of them. As anyone who's driven south on Highway 17 knows, though, that vinegar and spices blend famously found all over eastern North Carolina is really more of a culinary wedge that plunges way down the Carolina shore, down past Scott's in Hemingway and certainly as far south as Brown's Bar-B-Que in Kingstree and even further south with the pulled pork at Cooper's Country Store in Salters.

[youtube=http://www.youtube.com/watch?feature=player_embedded&v=h5WiNZROKG0?w=425]
The range of the controversial mustard sauce punches up from the lowcountry surrounding Charleston with Melvin's and straight up the eye" (I-26) to Sweatman's in Holly Hill (some say, the birthplace of mustard sauce) and further along with a string of Duke's starting in Ridgeland, Walterboro and Summerville and on up to Orangeburg—before reaching like a clinched fist that throttles Columbia where you can find a light mustard sauce in nearby Batesburg/Leesville at Jackie Hite (probably a relative via some classic ancestral spelling talents) and also at Shealy's where they diplomatically also tender a clean-cut vinegar sauce.
An east-west slab centered around northwestern Spartanburg serves up a light tomato sauce, the complement to western North Carolina's sauce - the kind you find as you head west beginning with Midway's in Buffalo, South Carolina (although they also serve a mustard being so close to the line) and on over to Hogback Mountain in Inman. And, sure, over near the outback - the Aiken/Augusta frontier—there is a thin sliver of the state that goes for a ketchup confection. The less said about this, the better. This variation is tolerated by the rest of the state in the same way any southerner has to contend, from time to time, with a toothless and mangy cousin who, white or black, somehow goes by the hopeful name "Wash."
[youtube=http://www.youtube.com/watch?feature=player_embedded&v=3rn-G2MNFVI?w=425]
But this whole argument turns on the perverted idea that sauce is anything more than a creation meant to wring an extra six bucks out of you on your way out the door after buying the full platter. Sauce pride is foolish pride. Why? Beneath all that Kansas City fetishism for blood-red sauce, the preferences for brown-sugary Memphis ribs, and all the sacrilegious things that can happen in Texas (an enthusiasm for mutton, burying smoldering cow heads), there is one true thing: It begins with a big animal and 200 degree coals that for the better part of a solar day carry the slowly melting fats and the mild fragrance of smoked wood into the remaining sweet meat.
While all this talk is interesting, South Carolinians know it's effectively a ginned-up quarrel about condiments. Sure, it's nice to touch up that sublime sweetness with a little bitterness because, behold, that is the common denominator of all those sauces - vinegar, mustard (just amping-up the pungency, really) and even tomato blends (all of which are just variations of vinegar). Good roadside barbeque or a backyard hog, if it's done right, really only needs a dash of salt and a touch of some vinegar-like substance. Anything more than a hint is really a crime comparable to slathering a rib-eye with ketchup.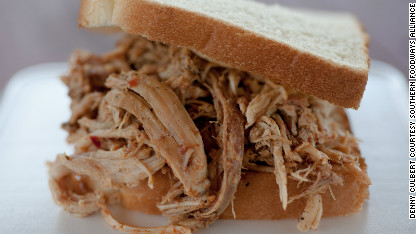 Whole hog sandwich from Scott's Bar-B-Que
People everywhere somehow like to claim that they invented barbeque. For the longest time, I thought that that, too, was just another kind of local pride. I was the first to harrumph when I read one of those magazine pieces claiming yet another, new theory about the origin of barbeque. But I have grown up to realize all of those people are, in some Buddhist way, true.
Barbeque is a revelation every time we cook it. How else to explain the near frantic zeal that possesses a backyard chef as he explains the super-secret ingredient that just makes his great barbeque: A half cup of cold coffee...dry mustard...maple syrup...pumpkin flesh...crushed pineapple...a bottle of Dr. Pepper.
Barbeque makes you feel like you've finally brought some great and ancient thing to some exquisite perfection. And that's because barbeque is the culinary version of the Norse god Freyr or Hindu's Vishnu - constantly reincarnating. Does the word come from barbacoa in the West Indies? Or does it come from a famous spread in Texas that branded its cattle with a bar over the BQ signature of the place - the Bar BQ ranch? Or is it an old French phrase by way of Haiti meaning "whiskers to tail" - barbe à queue? Or maybe it was early redneck shorthand for food, beer and pool joints known as Bar, Beer and Cues?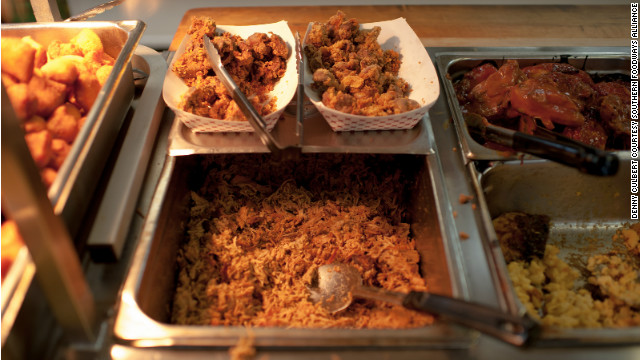 Buffet at Dukes Bar-B-Que
I'll stipulate to all those answers! Is it lechon in the Philippines? A Mongolian roast? The churrascaria of Brazil? The babi guling of Bali? The siu yuk of China? The kalua of Hawaii? Barbeque pops everywhere throughout history and all the time. Not long ago, I even found it in the Odyssey. I'm sure it wasn't easy for Homer to convince King Nestor to give up his secret recipe (red wine was his secret), but there it is in Book Three: "They cut out the thigh bones all in due course, wrapped them round in two layers of fat, and set some pieces of raw meat on the top of them; then Nestor laid them upon the wood fire and poured wine over them..."
Every time we slow cook a whole animal, we're getting in touch with something big and authentic and ancient and continental - European, Asian, African, American. Anthropologists now tell us that cooking itself is what probably helped us turn the corner as primates. Cooked meats and vegetables are easier to eat and the resulting increase of proteins, nutrients, and calories helped grow these Homo sapiens' brains of ours. So, every time we cook barbeque, anywhere, we're commemorating that time - the end of our nomadic life and the new world of cooking - reliving that Ur-meal when, if the paleogastronomers have it right, we all first tasted what it meant to become truly human.
Today's installment comes courtesy of Jack Hitt. He grew up in Charleston, South Carolina and works as a contributing editor to a variety of publications including the New York Times, Harper's, and This American Life. He is passionate about barbecue. Follow him on Twitter @jackhitt

Delve into more barbecue goodness from the Southern Foodways Alliance blog as they explore the traditions of South Carolina
Previously - Snoot sandwiches and How to spot a great barbecue joint