"Somebody give me a six dollar bill to start. A six in the hand."
Auctioneer Doug Allen rapidly runs off numbers into a microphone trying to find the highest bidder in the crowd. Over 100 people have shown up in this volunteer fire department's banquet hall in Severna, Maryland, where there are hundreds of items to be sold off.
Unlike auctions held by Christie's or Sotheby's, Allen is not auctioning off a Picasso or a Monet. The item up for bid is a cardboard box full of Rold Gold pretzel snack bags. Doug Allen and his wife Kathy are holding a grocery auction.

Grocery auctions sell off items that food distributors and grocery stores are trying to unload. The items may be seasonal, discontinued, or in excess. Food items may also be nearing or have passed its "sell-by" date.
These auctions aren't a new occurrence but auctioneers say these types of auctions became more popular and frequent as the recession hit.
"We realized this was probably the largest money maker. Of course you want to stick with it anyway, but it didn't mean it was going to be the one to thrive. But it did because it was the necessity," says Kathy Allen, owner of Wishing Rock Auctions.
Allen, who has been in the auction business for almost 20 years, says she rarely does antique or collectible auctions any more and focuses on grocery auctions.
A big draw for attendees to these auctions - food prices.
According to the U.S. government's Consumer Price Index, food prices in August rose 2% from the same time last year. For consumers that has resulted in higher prices at the grocery store and in turn higher grocery bills. With the severe drought that hit the United States this year, the USDA is predicting even higher than average food prices in 2013.
Eileen Carter has been coming to food auctions for over a year and says she keeps coming back because it's cheaper than going to the grocery store.
"I can fill up my whole pickup truck for $120 and have to give my neighbors half the food," says Carter.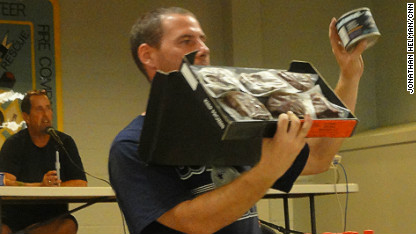 While most auctions only have one winner, grocery auctions become a team sport. Each product is usually sold individually but there are normally multiples of items. Once the price is set for one of the items, anyone can purchase the additional ones at that price. Regular attendees will work together and try not to overbid for items so that they all can get it at a good price.
While a bidder can score great deals at the auctions, the idea of buying food that may be past its "sell-by" or "best if used by" date can worry some buyers. But food experts say that people get too hung up on the labeled date.
"It's your perception when you see that date. It's hard to get over it. It's even hard for me and I know it. It's in your mind," says food safety expert Shari Portnoy. "If you didn't see that date you might think totally different."
Portnoy says that many people are misinformed about what those labels mean.
"The 'sell-by' is for the store to know how long the store should display it. 'Best if used by' is for flavor or quality. It is not a purchaser's safety date. It is recommended for peak quality," says Portnoy
Portnoy also adds that the food dating labels are not regulated by the government and are usually at the discretion of the manufacturer. The only exception is for infant formula.
At the grocery auction in Severna, Maryland, the food distributor puts out sample bags of chips and snack bags for attendees to try.
"We have tried some 90% of the food our distributor has sold," says Kathy Allen. "I don't normally have people returning things at all."
Quite the opposite, in fact. Numerous hopeful bidders planned ahead and came with coolers to haul away their delicious winnings.