Editor's note: All summer long, the Southern Foodways Alliance will be delving deep in the history, tradition, heroes and plain old deliciousness of barbecue across the United States. Dig in.
A strange phenomenon pervades the signs of barbecue joints across the state of Texas: pigs acting like people. In my memory, nary a bovine graces a barbecue sign that's not in the cooked or soon-to-be smoked form.
At Big John's Feed Lot Bar-B-Q in Big Spring, Texas, a painting on the window shows the pitmaster wielding a cleaver in one hand while dragging a dazed steer with the other. This is how the poor cattle are portrayed, while the overt anthropomorphism is reserved for swine - in this, the land of beef barbecue.

A pig surveys the pit on a banner at Hog Heaven across town in Big Spring. On a mural inside Mumphord's Place in Victoria, a hog raises a fork and a platter of meat victoriously, presumably because he's not on the platter himself. On the side of La Exclusiva in Pharr, Texas, a jovial, sombrero-clad pig stirs a pot of carnitas, while a batch of barbacoa sits unattended. I guess we are to assume the cow is in the pot.
Photo courtesy Daniel Vaughn
Elsewhere, you can find a hog on a motorcycle in Leakey, another with fork and knife at the ready and a napkin around its neck in Marshall, and even a cigar-smoking pig in a toque in Cedar Hill.
After so much repetition of the theme, it's easy to get used to the oddity. But when I darkened the door of Johnny's Barbecue in Midland, I recoiled. A scene up on the wall went a step too far. It was a seated pig clad in Western wear, happily biting into a rack of ribs.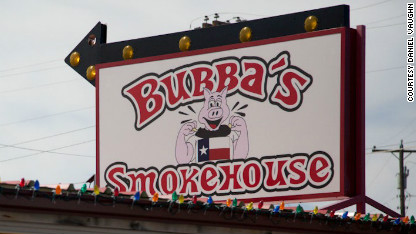 A few days later, yet another blatantly cannibalistic pig was spotted in San Angelo, where a muscular swine snacked on a saucy rib on the sign above Bubba's Smokehouse. Those ribs turned out to be disappointing - otherwise, I would have thought the pig was on to something.
This Lone Star Dispatch comes from Daniel Vaughn, the brain (and mouth, and tummy) behind Full Custom Gospel BBQ. Follow Daniel on Twitter at @BBQSnob.
Delve into more barbecue goodness from the Southern Foodways Alliance blog.
Previously - Speaking in tongues: a barbecue communion and (Possibly) the oldest barbecue joint in North Carolina
And more on Texas cuisine:
Meat-meister has beef with non-Texas barbecue
Some of Texas' finest tacos, in the back of a 24-hour gas station
Taking a break at County Line Bar-B-Q
Holy mole and nopales: A taste of Austin
Best dang food joint in Texas
Salt and battering at the State Fair of Texas
A fraternal bond in Texas barbecue
Don't mess with a Texas chef: Bryan Caswell stumps for Houston