From dawn to dusk during the ninth month of the Islamic calendar, observant Muslims abstain from eating, drinking, smoking and sex in order to purify themselves, learn humility, pray and concentrate on Allah's teachings. Sarah Mahmood is a former intern on Starting Point with Soledad O'Brien and a junior at Wellesley College and shares this story of her family's traditional Indian celebration.
This might be the first Ramadan that my parents won't complain about how they've gained weight, despite having fasted the entire month.
After a long, hungry day of fasting, it's easy to overcompensate when you can finally eat. It doesn't help that in South Asia, the meal eaten to break the fast (Iftari or Iftar in other parts of the Muslim world), consists primarily of fried food.
Now that Ramadan is in the summer though, and the sun sets later at 8 pm, fewer families are having the traditional fare. It's too hectic to prepare and eat two meals just before going to bed, and so many are skipping straight to dinner.

Yet for many South Asian Muslims, traditional Iftari is part of the magic of the holy month. As my mother says, it just doesn't feel like Ramadan without it.
So while fried Indian snacks might be disappearing from the daily menu, they haven't gone away completely. People are sure to be eating traditional Iftari on mellow nights, such as weekends, and it remains a staple food at parties.
Here are recipes for two of the most popular items, samosas and pakoras: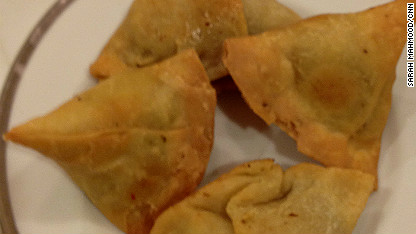 Samosas
Makes 20
– Dough
1 cup all purpose flour
1⁄2 cup yogurt
2 Tablespoons canola oil
1⁄2 teaspoon salt
– Filling
4-5 medium-sized boiled potatoes
3 Tablespoons oil
1 teaspoon cumin seeds
1 teaspoon mustard seeds
1 teaspoon dried mango powder
1 teaspoon coriander powder
1 teaspoon cumin powder
1 teaspoon chaat masala
2 teaspoon crushed red pepper
Salt to taste
Add salt to the flour and mix well. Add oil to the mixture. Add yogurt gradually and
knead it to make dough. Cover with a cloth and leave aside for half an hour.
To prepare the filling, peel the potatoes and mash them. Heat oil in a wok and add cumin seeds and mustard seeds. When they begin to pop, add the potatoes and the rest of the seasonings. Mix well and cook for 5-10 minutes. Add 1⁄2 cup of chopped coriander leaves to filling.
Pat the dough into 10 balls. Flatten the balls into circles that are about 4 inches in diameter on a lightly floured surface. With a sharp knife, cut each circle in half.
Heat 1 quart of oil in a large sauce pan.
Dampen the edges of the semi-circles and press them together so that they become cones. Stuff the cones with the potato filling and seal the bottom and top edges.
Fry the samosas in small batches for 2-3 minutes or until golden brown, turning on
both sides. Drain excess oil on a paper towel and serve.
Pakoras
Serves 6-8
1 cup chickpea flour
1⁄4 teaspoon salt
1⁄4 teaspoon baking soda
3-4 finely chopped green chillies
1⁄2 teaspoon red chilli powder
1 medium potato, thinly chopped
Canola oil for deep frying
1⁄4 cup coriander leaves
2 onions, thinly chopped
Mix the chickpea flour, baking powder, salt, and the red chili powder together in a
bowl.
Gradually add 3⁄4 to 1 cup of water to make a batter of medium consistency.
Add the chopped onions, potatoes, coriander leaves and green chillies.
Heat oil in a wok and drop a tablespoon of batter to form each pakora. Lower the heat and fry until golden brown, turning on both sides.
Read:
The delicious rituals of Ramadan
iReport: Share your iftar traditions
An Egyptian family's Eid al-Fitr feast
Iftar in the South: Muslims gather for breaking of Ramadan fast
More on Ramadan at the Belief Blog
Have an Iftari or Iftar favorite in your family? Please share your stories and recipes below.