Editor's Note: Yvonne Maffei publishes MyHalalKitchen.com, a blog about halal food and cooking. She currently teaches cooking classes, gives lectures on healthy eating, and consults schools on how to source and create healthy and halal recipes for their school lunches.
Ramadan is the ninth month of the Islamic (lunar) calendar and the holy month of fasting for Muslims worldwide.  Individuals at or above the age of puberty and who are physically able to abstain from food and drink will do so from dawn until sunset every day of the month.
Ramadan is also a time of focus on inner spiritual reflection. Muslims are encouraged to increase their good deeds, practice self-control, empathize with those less fortunate and use this as a time to devote oneself to the worship of God and contemplate his message to humankind in the holy Qur'an. (Muslims believe the Qur'an was divinely revealed to Prophet Muhammed through the Angel Gabriel in this month more than 1400 years ago.)
Though the focus of Ramadan is not on food in particular, it is still a time when so many different dishes are savored, shared and appreciated. Because of the lunar calendar, Ramadan falls at different times each year, so seasonal foods will often make their way onto the Ramadan table, changing things up just a little each time.

Muslims typically have two main meals during Ramadan: the Suhoor (pre-dawn meal) and the Iftar (breaking-of-the-fast meal).  Since Muslims come from an array of cultures worldwide, the food served during Ramadan is just as varied as the people, but should always be halal (permissible according to Islamic guidelines).
Suhoor is prepared and eaten before the sun begins to rise, as that is the time the fasting day begins. Breakfast foods are served, but tend to be a little heartier than usual in order to help sustain the fasting person throughout the day. One might find eggs, merguez or other breakfast sausages, jams, olives, cheese, yogurt and fresh breads on the table at this time.
After a long day of fasting, the Iftar time is a special one. The initial breaking of the fast is typically done with dates because it was the tradition of Prophet Muhammed, but the fast can be broken with anything - water, fruit juice and fruits are most common because they are a healthy way to help to elevate low sugar levels in the body after a day of fasting.
Next, a bite-sized savory appetizer follows and is a sort of prerequisite for the main meal, which is often served after the Maghreb (sunset) prayer. Indian samosas, Latin empanadas, Turkish bourek, Moroccan briouates, Middle Eastern sambusik or all-American turnovers might show up on the table at Iftar time, along with creamy dips, chutneys, or harissa to dip them into.
Some form of soup is almost always on the Iftar table (even in the summer months) regardless of ethnic cuisine, because it is said to warm up the digestive system and prepare it for other foods to come. This prevents the system from being immediately loaded with food after a long day of fasting. Some favorites that come to mind are lentil soups, butternut squash, vegetable soups and more.
After that, typical dinner foods are served - mostly meat dishes with rice or pasta and a salad on the side. By this time, it may be difficult for some people to eat a full plate since the stomach shrinks from fasting.  After all, the point is not to overeat or stuff oneself with everything in sight, but to take what is needed as nourishment and continue on with the real meaning of Ramadan.
Stuffed Dates with Crème Frâiche & Pistachios
(Pictured above)
Ingredients
Cooking Directions
Wash and dry the dates and remove any pits, but do not break the dates apart.
Stuff each date with at least one almond.
On a plate or platter, arrange the dates. Spoon the crème frâiche  on top of each of the dates. Drizzle with honey and garnish with lemon zest and pistachios on top.
Serve at room temperature.
Moroccan Briouates with Ground Lamb, Almonds and Raisins
Briouates are Moroccan sweet or savory appetizers of phyllo sheets rolled, stuffed and typically lightly fried in oil. This version uses egg roll wraps which are quite sturdy and can hold a lot of meat and other ingredients, which makes them particularly filling. Any ground meat like veal, turkey or chicken will substitute well.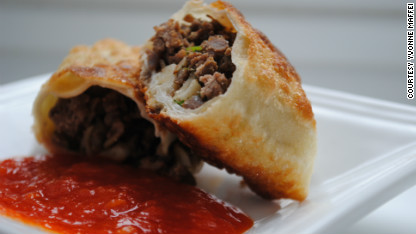 Ingredients
4 Tbsp

olive oil, plus more for frying the briouates

1/2 cup

yellow onion, diced

1 pound

ground lamb

1 cup

slivered almonds

1 tsp

ground cinnamon

3 gloves

garlic, minced

1 tsp

smoked paprika

1 tsp

ground cumin

1/2 tsp

sea salt, or to taste

1/4 tsp

freshly ground pepper, or to taste

3/4 cup

raisins

2 Tbsp

fresh mint leaves, chopped

1/4 cup

finely chopped parsley

1 pound

egg roll wraps

1

egg, beaten

lime wedges, optional
Cooking Directions
Heat oil in a large sauté pan over medium heat. Add the onion and sauté until translucent. Add the lamb and the garlic. Stir and cook until the meat has slightly browned then add the almonds and ground spices, including the salt and pepper.
Add the raisins and stir until they become slightly larger in size. Continue to cook for another ten minutes. Add the chopped fresh herbs and cover the pan.
Reduce heat to medium-low and continue cooking for an additional 10 minutes, adding a bit of water if necessary.
Remove lid and drizzle meat with olive oil. Set aside to cool.
Using one sheet of egg roll wrapper, place one heaping tablespoon of meat mixture in the center. Bring each side to the center then roll from the bottom upwards. Close by brushing the end with egg wash. Repeat this process with all of the wraps.
Once finished wrapping each one, heat an additional 2-4 tablespoons of oil in a large sauté pan and fry the briouates. Do not fill the pan; instead fry only as many as will fit comfortably at one time. Cook for several minutes on each side, or until each side is nicely browned. Line a plate with paper towels to capture any excess oil. Serve warm with a dipping sauce and/or fresh lime wedges.
Previously:
Just don't call me late for Iftari
iReport: Share your iftar traditions
An Egyptian family's Eid al-Fitr feast
Iftar in the South: Muslims gather for breaking of Ramadan fast
More on Ramadan at the Belief Blog
Have an Iftari or Iftar favorite in your family? Please share your stories and recipes below.