Nora Ephron, the prolific essayist, novelist, playwright, screenwriter and movie director, passed away on Tuesday at the age of 71.
Some of her most renowned accomplishments include the canon of romantic comedies, "When Harry Met Sally," "Sleepless in Seattle" and "You've Got Mail."
Her most recent film, "Julie & Julia," follows writer Julie Powell (played by Amy Adams) as she cooks her way through Julia Child's cookbook "Mastering the Art of French Cooking," and subsequently, finds a new recipe on life. Meryl Streep earned a 2010 Oscar nomination for her portrayal of the legendary bon vivant, Julia Child.

Many of Ephron's works involved a secret ingredient for her fans who loved to eat: there's the unforgettable "I'll have what she's having" pastrami sandwich scene in "When Harry Met Sally"; the caviar-is-a-garnish argument in "You've Got Mail"; and her cookbook crushes in the New Yorker.
And then there's "Heartburn," Ephron's autobiographical novel about her turbulent marriage to Watergate journalist Carl Bernstein. The 1986 film adaptation featured Meryl Streep as a food writer named Rachel whose Washington columnist husband, played by Jack Nicholson, cheats on her.
At the end of the movie, Rachel finds out that while she was giving birth to their second child, Nicholson's character, Mark, was out buying an expensive necklace for his mistress. Rachel decides revenge is indeed a dish best served cold. She bakes a key lime pie and tosses it in Mark's face at a dinner party with other Washington couples.
So today, bake a key lime pie in memory of Nora, who always brought a little sweetness to the most sour of life's curveballs.
In the words of Ephron: "I feel bad for the people who don't at some point understand that there's something funny in even the worst things that can happen to you."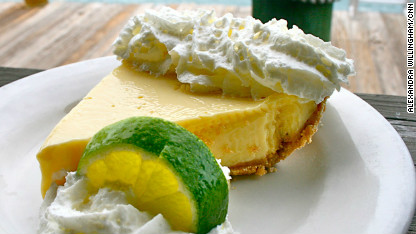 Follow this link for Nora Ephron's key lime pie recipe.