Welcome to round eleven of Spouse vs. Spouse, a series in which a couple of married food freaks, CNN's Brandon and Kristy Griggs, square off in their Atlanta kitchen for culinary bragging rights – and invite you to weigh in, too.
In each installment, Kristy and Brandon each make a creative variation on the same ingredient or dish – everything from pasta to seafood to cocktails to desserts. We serve both versions anonymously to our friends, who then judge which one they like better and why. We walk you through our kitchen process, bring the husband-and-wife smack talk and, of course, keep score. We also share our recipes here so that you can try them for yourself.
Our theme: Father's Day brunch



Brandon: Father's Day is coming up Sunday, and while it's a bittersweet holiday for Kristy and me - both our dads are gone - we thought it would be cool to honor our fathers' memories in some small, indirect way while celebrating all the other great dads out there. So I present to you … the battle of the brunches! (Is brunch for dad a thing? Sort of? If not, it should be.) I'm no chef, but I know my way around an egg. My thinking was this: If I could take Kristy down in this cook-off while inspiring anyone out there to make something special for the paterfamilias in their life, it'd be a win for everybody. Except Kristy. Perfect.
My dad was a creative and intuitive cook - I remember him once on a whim adding barbecue sauce to fish stew - which made it even more disappointing when my first brunch effort was an inelegant mess. It was an egg-potato-sausage casserole, and it congealed into one big cheesy blob. (It was kind of tasty, though.)
So I started over, this time with polenta. Yeah, I know polenta isn't really a brunch dish. But if you think about it, polenta is basically cornmeal, and cornmeal is basically grits, and grits are on every brunch menu in the South. So I made a little moist polenta cake, following this Alton Brown recipe, and topped it with grilled sausage, roasted vegetables and Parmesan cheese. And a farm egg. (OK, it wasn't really a farm egg - I bought it at Kroger - but it was organic and from a cage-free, blissfully pampered chicken. Supposedly.) I cooked it sunny-side up.
And you know what? It was really good. My dad would have been proud, especially as he poured barbecue sauce on it.

Kristy: I appreciate the Father's Day angle, but I have to start by saying that we initially intended for this round of Spouse vs. Spouse to celebrate the French Open tennis tournament, not fathers. The two events are close together, but I lost my father at a very young age so I tend to think more about handsome men who hit tennis balls over a net during this time of year. (Don't cry for me, Argentina - I was too young to remember him.) I mention this because I chose to make chocolate French toast croissants for our judges, most of whom are members of my tennis team. But I hope lots of fathers out there would appreciate what I cooked up.
Keeping the French Open in mind, the recipe I concocted had a lot going for it. First of all, what's more French than a croissant fashioned into French toast? I started with a recipe I found on Epicurious that's egg mixture featured orange zest and orange juice. Then I upgraded it with melted chocolate. Finally, I added berries to combat the richness, sprinkled powered sugar over the top and poured some maple syrup on the side for dipping.
It turned out great the first time and truthfully, I didn't think I needed another test run. To keep going with the tennis theme, I'd just hit a backhand winner down the line while my clueless husband was standing in no man's land. And the recipe was simple enough for children to make. I could imagine fathers holding back tears of joy and appreciation as they ate the delicate, rich goodness with their spouse or little ones smiling proudly beside them.
But was it enough to beat my egg-head husband?
Judging: We had 14 brunch guests - 14! - who waited patiently on the terrace of our apartment building as we made individual plates for almost each person. Our judges liked "the subtle orange taste" of Kristy's French toast, although one said they "would save this dish for dessert" instead of brunch. They mostly praised the "savory flavor" of Brandon's dish, although some wanted more vegetables and a runnier egg while others weren't "wowed" by the polenta. When we tallied up the ballots, though, it was a landslide.
Winner: Brandon's polenta with farm egg, sausage and roasted vegetables
Overall score to date: 5 to 5, with one tie
Parting thoughts:
Brandon: I'll admit I was a little freaked out at the thought of cooking individual egg dishes for so many guests. I just didn't want to poison anyone.
Kristy: Yeah, I'm with you. Common sense was not on board this train. Thankfully they agreed to share!
Brandon: I'm not sharing all my newfound kitchen secrets with you, though. This competition is getting too close for that. So much for your 2-point lead!
Kristy: Your newfound secrets? Ha! I didn't want to go there, but we both know where you got your farm-egg idea ... and the roasted veggies.
Brandon: Hey, good cooks borrow. Great cooks steal.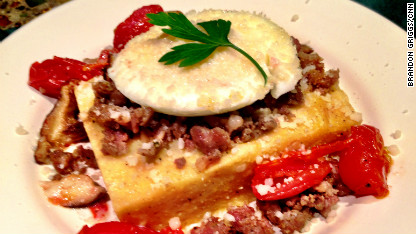 Brandon's Farm Egg Over Polenta with Sausage and Roasted Vegetables
Serves 4-6 people
For the polenta:
2 Tablespoons olive oil
3/4 cup finely chopped onion
2 cloves garlic, finely minced
1 quart chicken stock or broth
1 cup coarse ground cornmeal
3 tablespoons unsalted butter
1 1/2 teaspoons kosher salt
1/4 teaspoon freshly ground black pepper
2 ounces Parmesan cheese, grated
Preheat oven to 350 degrees. In a large, oven-safe saucepan, heat the olive oil over medium heat. Add the onion and salt and sweat until the onions begin to turn translucent, about 4 to 5 minutes. Reduce the heat to low, add the garlic, and sauté for 1 to 2 minutes, making sure the garlic does not burn. Turn the heat up to high, add the chicken stock and bring to a boil. Gradually add the cornmeal while continually whisking. Once you have added all of the cornmeal, cover the pot and place it in the oven. Cook for 35 to 40 minutes, stirring every 10 minutes to prevent lumps. Once the mixture is creamy, remove from the oven and add the butter, salt and pepper. Once they are incorporated, gradually add the Parmesan cheese. Pour the polenta into 9- by 13-inch cake pan lined with parchment paper. (I poured my polenta into a greased muffin pan to make little polenta cakes.) Place in the refrigerator to cool completely.
For the sausage:
4 fresh Italian sausage links, casings removed
4 cloves garlic, finely chopped
1/4 cup sun-dried tomatoes in oil, finely chopped
1/4 cup fresh Italian parsley, coarsely chopped
2 Tablespoons olive oil
Heat oil in large pan over medium-high heat. Add garlic and cook for a few minutes until it barely starts to brown. Add sausage, breaking up the meat with a wooden spoon into small pieces, and cook for about 5 minutes. Add sun-dried tomatoes and parsley and cook until sausage is done, about 2-3 more minutes. Remove from heat and set aside.
For the vegetables:
10-ounce container cherry or grape tomatoes
2 cups oyster or shiitake mushrooms, sliced into small strips
6 garlic cloves, coarsely chopped
1/4 cup olive oil
1/4 cup chicken stock
Maggi seasoning
1/2 teaspoon salt
1/2 teaspoon pepper
Preheat oven to 450 degrees. Add tomatoes, mushrooms and chopped garlic to roasting pan. Add olive oil, salt and pepper and toss vegetables until coated. Add a few splashes of Maggi. Roast for 12-15 minutes or until tomatoes start to blacken. Remove from oven and set aside.
For the farm egg:
Half a dozen large fresh brown eggs, preferably organic or farm-raised
1/4 cup olive oil
2 ounces Parmesan cheese
Heat olive oil in large frying pan on medium heat. Crack three eggs into pan and fry until yolk begins to firm slightly. Remove and repeat with remaining eggs.
To serve (Wow, this recipe is getting long - no wonder I got tired): Remove polenta from fridge and either cut into individual-serving squares or carefully remove from the muffin pan. Place the polenta serving in the center of plate and top with the sausage mixture, roasted vegetables and a farm egg. Sprinkle with Parmesan cheese. Heat in microwave until polenta is hot, about 30-45 seconds.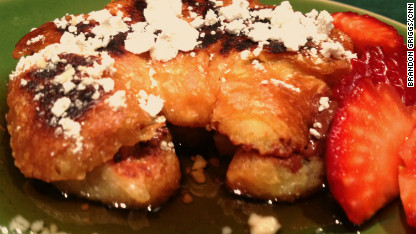 Kristy's Mini Chocolate Croissant French toast with Berries
Serves 12
12 miniature croissants, halved lengthwise
2/3 cup half and half
3 eggs
1/2 cup orange juice (or up to a cup depending on how much orange flavor you want)
1 teaspoon sugar
1 teaspoon vanilla
1-2 teaspoons grated orange peel
1/2 teaspoon ground cinnamon
1/4 teaspoon ground nutmeg
1 tablespoon butter
1 cup semi-sweet chocolate chips
Powdered sugar
Maple syrup
1 cup of berries (strawberries, raspberries or blueberries)
Slice the croissants lengthwise and set aside. Combine half and half, eggs, orange juice, sugar, vanilla, orange peel, cinnamon and nutmeg in a large bowl. Whisk to combine well.
Melt a third of the butter in a large frying pan on medium-high heat until pan is hot. Dip eight croissants pieces in the egg mixture and add them to the pan face down for three minutes. Place chocolate chips in a small bowl and microwave for one minute (you can melt the chocolate before you begin dipping the croissants).
Turn the croissants and spread chocolate over four of the pieces. Let them cook for three minutes and then top the non-chocolate-covered halves with the chocolate-covered halves, forming four croissant sandwiches.
Repeat with the remaining pieces, butter and chocolate (you may have some chocolate left over).
Place finished croissants on plates and pour maple syrup around them. Sprinkle with powdered sugar and garnish with berries.