If Burger King's new 510 calorie, bacon-studded sundae is any indication, people aren't going to stop putting pork in desserts anytime soon. I can't say I necessarily endorse that, though I've certainly contributed to the glut, myself, with a recipe for Bacon-Bourbon Brownies with Pecans in Food & Wine magazine last year.

Piggy ice cream isn't a new innovation. For many years, chef Heston Blumenthal has served a signature dry ice-chilled bacon and egg ice cream at The Fat Duck in Bath, England, chef Eric Ripert has served a bacon-decked ice cream at the much-lauded Le Bernardin restaurant in New York City, and various Top Chef contestants, including Richard Blais and Marcel Vigneron, have attempted bacon-based ice cream, to varying degrees of success.
San Francisco's Humphry Slocombe Ice Cream took a step up the haute chain with a prosciutto ice cream, produced in concert with chef Chris Cosentino's salumeria Boccalone, and New York City's now-defunct Dessert Truck served up a chocolate bread pudding with a bacon crème anglaise.
But with Jack In The Box's bacon milkshake (which contains no actual bacon – just a
bacon-flavored syrup), Denny's maple bacon sundae and BK's version featuring bacon as a garnish rather than an integral element, are fast-food chains just trying to make a buck off the backs of America's pig predilections? Take your salty, porky frozen sweets solutions into your own hands (and impress the heck out of your friends) and trot out a cool treat at home.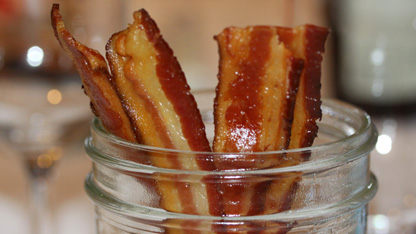 Boozy, Nutty, Buttermilk Bacon Ice Cream
1 pound smoked bacon (not thick cut)
1/4 cup brown sugar
1/8 tsp cayenne pepper
1 cup pecans
2 Tablespoons bourbon
4 egg yolks
1/2 cup brown sugar
2 cups heavy cream
1 1/2 cups buttermilk
Chop bacon into 1/2 inch pieces, dredge them in brown sugar. Scrunch pieces of aluminum foil to cover the surface of a baking sheet – the excess fat will drain into the channels. Lay out the bacon on the foil making sure not to overlap pieces. Sprinkle lightly with cayenne pepper, then bake in a 350°F oven until crispy.
After the first 10 minutes, check every 5 minutes to make sure that it is not burning. Remove, cool and set aside.
Chop pecans very finely and toast them in the same 350°F oven for about 10 minutes, watching carefully to make sure they do not burn, but give off a nice, nutty odor. Pour them into a single layer in a flat bottomed container and pour bourbon over them while they are still warm. Set aside.
Whisk together egg yolks and sugar until they are thoroughly mixed. In a saucepan, heat heavy cream and one cup of the buttermilk to 150°F. Pour a thin stream of the cooked cream and buttermilk mixture into the eggs and sugar, stirring until the ingredients are thoroughly incorporated. Chill the custard for 4 hours or until very cold, but not frozen.
Once it has chilled, stir in the rest of the buttermilk, pour the mixture into an ice cream maker and mix until very thick. Turn off the machine and gently stir in the candied bacon and the nuts.
Spoon it all into a container with a tight-fitting lid. If there is a gap between the custard and the lid, press a sheet of plastic wrap against the surface of the mixture to prevent ice crystals from forming.
Remove ice cream from the freezer 10 minutes before serving.
If you don't have an ice-cream maker either place the bowl in the freezer and remove every half hour to beat with a whisk or electric immersion blender or pour the mixture into a 1-pound coffee can and seal it tightly.
Place that can into a 3-pound coffee can, layer ice and rock salt around it and seal that tightly as well. Roll the large can between your feet or between two people for 10-15 minutes.
Then open the can, take the smaller can out, clean it off, unseal, and stir the contents. Reseal the can, pack it into the larger can, place in more ice and rock salt and repeat the process until the mixture is semi-frozen. Pour it into a fresh container and place in the freezer until it reaches desired solidity.