Welcome to round ten of Spouse vs. Spouse, a series in which a couple of married food freaks, CNN's Brandon and Kristy Griggs, square off in their Atlanta kitchen for culinary bragging rights – and invite you to weigh in, too.
In each installment, Kristy and Brandon each make a creative variation on the same ingredient or dish – everything from pasta to seafood to cocktails to desserts. We serve both versions anonymously to our friends, who then judge which one they like better and why. We walk you through our kitchen process, bring the husband-and-wife smack talk and, of course, keep score. We also share our recipes here so that you can try them for yourself.
Our theme: pork tenderloin



Brandon: In the nine months we've been doing this dueling-recipe series, Kristy and I have sparred over appetizers, salads, pasta, soups, sliders, cocktails and desserts. One thing we hadn't done, though, was face off over a big ol' hunk of meat. Until now. After considering pot roast, lamb and some other beefy options, we settled on loin of pork – that friendly, malleable meat that's on menus everywhere throughout the South, where we live.
To a cook, the mild, delicate meat of pork tenderloin is like a blank canvas: It can take on an infinite number of flavors, depending on the marinades and seasonings you use. For many chefs, that means something fruit-based. I've served it successfully before with an apricot sauce, but I wanted to do something more original this time. (Maybe I was tired of my wife's smack talk about how safe my dishes were.)
After borrowing ideas from a couple of recipes and testing several cooking methods, I combined them all into one that worked best for me. I marinated the pork overnight, coated it in a dry rub of ground fennel seeds and other spices and seared it on all sides in a hot skillet to seal in its juices (roast pork can dry out easily). Then I transferred the pork to the oven and roasted it for about an hour.
The flavor of the meat was already pretty good. Still, I needed to come up with a creative sauce to put it over the top. Apple? Cranberry? Yawn. Then, while scanning the preserves aisle of the grocery store I came across a jar of guava jelly. Bingo! I'm not a big fan of cloying sauces, so I mixed the guava with drippings from the pork and some other ingredients to give it a sweet-savory balance. Then I tweaked it further by adding some mint.
Yes, I was serving my pork dish with a guava-mint sauce. The disaster potential was high. I was either going to hit a home run or strike out swinging.

Kristy: Even though I'm leading my husband in this competition I went into this contest feeling less confident than usual, mainly because Brandon has been cooking pork loin for years, and he does it well. I, on the other hand, have been piggy challenged. I recently attempted to brine and cook a pork belly that turned into a rubbery mess.
With that in mind, I took a decidedly different, simple approach: I slow-cooked the pork and served it Mediterranean-style (OK, very loosely Mediterranean-style), over couscous. So far, I've largely created my own recipes for our cook-offs, but this time I found a tasty-looking recipe on Mel's Kitchen Café, which is run by a stay-at-home mother of four young boys (bless her heart).
The dish is super easy to make: Gather a bunch of herbs, some chicken stock and a pork loin. Toss them in a slow cooker. Then enjoy the rest of your day while it cooks and your sucker of a husband sweats over the hot stove trying to perfect his rival dish.
Six hours later, I was happy with the result. The loin was fairly tender and nicely shredded. The juices were savory and full of spice. And paired with the couscous, it looked good on the plate. Given Brandon's rep for playing it safe in the kitchen, I figured I at least had an outside shot.
Judging: Our friends/judges Judy and Ed liked both dishes. They scored them equally on presentation, and gave Kristy's Mediterranean pork especially high marks for originality. But Judy found Kristy's dish "a little dry," while Ed thought it could have had a "more distinctive flavor." And they were united in their appreciation for the guava-mint sauce. Judy said it was "delicious," and Ed said he found himself dipping Kristy's pork into Brandon's sauce.
Winner: Brandon's pork with guava-mint sauce
Overall score to date: Kristy 5, Brandon 4, with one tie
Parting thoughts:
Brandon: I was worried when the pork loin we bought for our cookoff ended up being chewier than the one I used in my test run. But it's hard to screw up pork, really. All hail the power of the guava-mint!
Kristy: You and your guava-mint jelly. Oh, you're just so proud of yourself.
Brandon: And you said my dishes were boring. Hah! You've exhausted your bag of kitchen tricks, but I'm just hitting my stride. We're gonna be all tied up after next time.
Kristy: (eye roll) Uh-huh. Next time it's gonna be broughten, and not by you.
On to the recipes!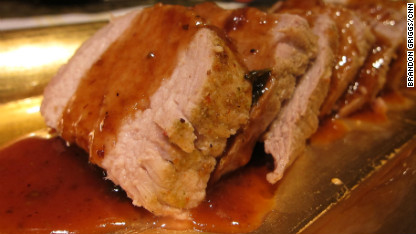 Brandon's Pork with Guava-Mint Sauce
Marinade:
2 cups chicken broth
3 Tablespoons soy sauce
3 Tablespoons cider vinegar
Juice of three limes
1/4 cup brown sugar
1 Tablespoon grated fresh ginger
1 Tablespoon sherry
Pork rub:
2 lb boneless pork loin
2 bay leaves, center spine removed
1 Tablespoon fennel seeds
1 Tablespoon red pepper flakes
Salt and pepper
Olive oil
Sauce:
1 cup chicken broth
1/4 cup pork drippings from pan
3 Tablespoons guava jelly
2 teaspoons port
1 Tablespoon sugar
1 teaspoon Worcestershire sauce
2 teaspoons corn starch, mixed first with ¼ cup water, to thicken sauce
1 Tablespoon soy sauce
2 teaspoons mint bitters (or mint extract)
Mix marinade ingredients together and refrigerate for at least four hours (preferably overnight) with pork in a large sealable plastic bag or container.
Grind bay leaves, fennel seeds and red pepper flakes in coffee bean or spice grinder til coarsely ground, about 15 seconds. Add pinches of salt and pepper. Spread powdery mixture on a plate.
Preheat oven to 425 degrees. Pat loin dry, then roll in dry-rub mixture til coated on all sides. Heat two tablespoons oil in a large oven-proof skillet over moderately high heat (skillet should be hot but not smoking). Brown pork loin on all sides, turning with tongs, about 3-4 minutes total.
Transfer skillet to oven and roast for 20 minutes; then lower heat to 350 degrees and roast for another 30-40 minutes or until done. (A meat thermometer inserted in the center of the loin should read at least 150 degrees.)
While tenderloin is roasting, mix together all sauce ingredients except pork drippings in saucepan and simmer on low heat. Once pork is done, add drippings (about 1/4 cup) to sauce. Cook for five additional minutes, stirring occasionally and adjusting seasonings to taste.
Slice pork loin into 1/2-inch wide pieces and array on serving plate. Pour sauce over the pork and serve.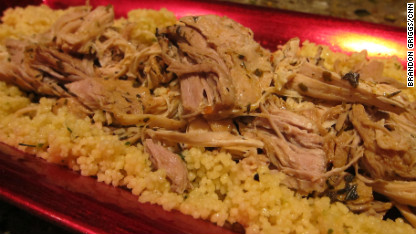 Kristy's Mediterranean Pork
2 to 2 1/2 pounds boneless pork loin, trimmed of fat
1-2 Tablespoons olive oil
1 1/2 cups chicken broth
1/2 Tablespoons paprika
1/2 tablespoons garlic powder
2 1/4 teaspoon dried sage
1/4 teaspoon dried rosemary
1/4 teaspoon dried marjoram
1/4 teaspoon dried thyme
1 teaspoon oregano
1 teaspoon basil
Juice of one lemon
1/4 teaspoon dried red pepper flakes
1 box couscous prepared according to package directions
Combine the oil, broth and spices. Cut small slits into the pork loin. Place the pork in a slow cooker and pour the broth/spice mixture over the top of the pork. Cover the slow cooker and cook on low for 6-7 hours OR until the pork is tender.
Remove the pork from the slow cooker and shred into pieces. Serve the meat and juices over couscous.
Previously: Soup showdown and Slider battle