Eight years ago, 52-year-old flight attendant Louise Tremblay thought she had finally found her dream home tucked into the woods in the Quebec countryside. But, as she attempted to draw a relaxing bath her first night in the house, she realized quickly that something was amiss. The tub filled a scant two inches and she realized to her horror that she had poured her entire life's savings into a home with no viable source of water. The house, as it turned out, had been built atop an old garbage dump.
The nearest neighbor was unwilling to work with her to fix the shared, faulty well and city officials would not allow her to dig a new one. Drained of financial resources, she looked around to take stock of her surroundings. "I had my garden to keep me alive," she said. "I had my vegetable garden to keep me healthy."

Tremblay planted tomatoes, lettuce, basil, coriander, chives, beets, cucumbers, blueberries and corn in her dry 21-foot swimming pool, figuring that it was the perfect way to protect her vegetables from predators like raccoons and deer. She hauled water from the nearby creek and her gutters and took note of what flourished under these conditions.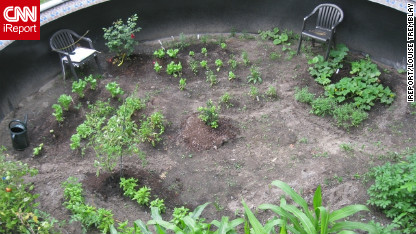 "I have been gardening for a while with flowers, indigenous flowers, medicinal flowers and felt the need to grow my own vegetable garden for my health and the taste. I realize that I have an upset stomach when I eat food with stuff they use to preserve the food," Tremblay told iReport. And the home-grown produce packs other benefits as well.
"If you start growing your own garden you will never go back in the summer to buy some veggies in the grocery store for sure," she says. "The joy of picking your own and tasting it will bring you an another dimension to appreciate your planet even more. Sit down for lunch on a sunny day, pick up a tomato, sprinkle some basil and enjoy gardening your own food."
Tremblay isn't sure she'll be able to keep up her efforts for another year; another neighbor blocked her access to the nearby creek when he did some work on his road. She's counting on nature's resilience to carry her through.
"My blueberry trees are growing back in good shape, the chives are coming back, the mint in the pot is growing wild, the oregano is back and the three roses trees I planted are alive and well," she says. "Will see."
Eatocracy, iReport and Fit Nation are teaming up to challenge our readers (and ourselves!) to grow just one thing they can eat. We'll be sharing these stories with you all throughout the gardening season - share your own at iReport assignment From garden to table.