Scorpacciata is a term that means consuming large amounts of a particular local ingredient while it's in season. It's a good way to eat.

In theory, it's spring today. Not that you'd be able to tell it from the weather, which seems unable to decide between parboiling and deep-freezing various chunks of the country, but I'm clinging on to a few telltale signs at the farmers market and in produce aisles.
While summer's sumptuous heirloom tomatoes and versatile, velvety okra are undeniably wonderful, spring's unique bounty feeds my senses and my soul. After a season of hearty, dense, nourishing and occasionally dull root vegetables, the earth is coming to life again in a riot of color and flavor. Might as well celebrate over dinner.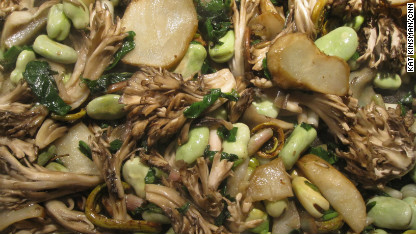 Fava Beans
Take a second to get all the Hannibal Lechter and Chianti jokes out of your system; it happens to the best of us. Now - these nutty, meaty legumes are only available for a cruelly short period each spring, and they're a bit labor intensive if you're buying them still in the pod. They're worth every bit of fuss. Favas are gfantastic sautéed and served with pasta, mashed warm with butter and cream, puréed with garlic and olive oil into a spread or tossed with goat cheese, olive oil and lemon and served as a salad.
- Some opening advice:
Removing the fava bean's shell is a two-part process. First, grab the stem of the spongy pod and pull it down to unzip each side, or use a knife to make a slit. Discard the pods. Using a strainer, lower the inner beans into boiling water for 30 seconds, and then into a bowl of ice water. Then remove each one's tough outer coating by nicking it with a sharp knife and peeling to reveal the bright inner bean.
Fiddlehead Ferns
These unfurled ostrich ferns are named for their resemblance to the tops of violins, and their wild, asparagus-like flavor is music to a spring vegetable fiend's mouth. Unless they're pickled or frozen, fiddleheads don't keep long, so use them as soon as possible after purchase.
To prepare them, snip anything past the first inch of stem and wash off grit and remnants of the papery brown husk. Raw or undercooked fiddleheads can cause stomach discomfort, so steam, boil or blanch and saute them to make sure they're sufficiently cooked. A good rule of thumb is to treat them like you would an asparagus and aim for tender, but with a bit of crispness.
Fergus Henderson's pungent anchovy dressing is an ideal complement to the ferns' nutty, bitter bite, but they're also a showstopper atop pizza and pasta, or simply tossed with butter, mint and a squeeze of lemon.
- Buy early, buy pickily
Like fava beans, fiddlehead season lasts only a few weeks, so grab as many of them as you can afford. Opt for the brightest ones; some brown on the stem can and should be trimmed off, but pass up any with oxidized spots on the central body.
Sunchokes
This earthy tasting tuber, a sunflower root also known as a Jerusalem artichoke, is harvested in the fall, or may overwinter underground to emerge as an early spring crop. While sunchokes can be subbed in for any cooking preparation suitable for potatoes, their flavor is closer to that of water chestnuts or jicama and...AND they can be eaten raw.
So peel them (or don't) and roast, mash, hash, gratin, purée, boil, bake, or turn them into a silky soup if you're looking to cook them. Slice or shred them raw into salads, grate for a crunchy slaw or add to a crudité plate as a conversation starter.
Sunchokes also make smashing pickles and crisp up nicely as an alternative to potato chips. One note of caution: moderate your consumption lest you and your loved ones discovered how they earned the nickname "Jerusalem fartichokes."
- Prep tip
Peeled sunchokes can brown quickly, so soak them in water with a little bit of lemon juice until you're ready to use them.
Salsify and Scorzonera
Like the sunchoke, salsify and its darker-skinned cousin scorzonera take a long winter's nap and a fall-planted crop of this root vegetable can be dug up while the new one is planted. They are often used interchangeably and are called "oyster plant" because their flavor is akin to that particular bivalve - but they looks pretty much like a slim, filthy carrot.
Also like sunchokes, salsify and scorzonera brown easily, so after you wash and peel off the outer skin to reveal the creamy flesh, submerge it in lemon water. Then go wild. The roots stand up to braising, baking, poaching, pan roasting, or boiling and make a glorious gratin or a satisfying fritter.
- Handle with care
The skin from these roots can stain clothing or skin, so wear gloves and don't go placing them on any linens you'd like to stay pristine.
Ramps
Ramps are a member of the allium family (Allium tricoccum if you care to get all categorical about it) and are akin to a wild onion. The flavor is pungent and slightly nutty, somewhere between garlic and leeks, and both the leafy tops and tender bulbs are edible.
Food fanatics get rabid about them not just because they're incredibly delicious, but also because they're somewhat of a rarity. Ramps are difficult, if not impossible to cultivate, so they must be foraged from cool woodlands (for free) or as is often the case, bought at a premium from someone else who's gone out to do the dirty work (for anywhere from $8 to $20 a pound).
They're also only in season for a very brief window in the spring, so chefs and home cooks get fanatical about jamming as many of them onto their menus and into their ramp holes as humanly possible during these few weeks. This has led to a certain amount of food world backlash in the past few years. ("OMG, ramps are so, like Spring 2011. I'm so over ramps. Ramps are so, like whatever.")
These people are wrong. Ramps remain thoroughly scrumptious, year after year - a springy little "Howdy do!" from the earth. But I thoroughly support the grousing because I live in fear that these people will discover and plunder my secret foraging spot over by the...wait, I'm not telling you.
Along with the tremendous collective appetite comes a real danger of over-harvesting. Foragers must take care to pick only a portion of the patch, avoid taking any young or flowering plants, and replant the rhizome (the underground stem from which bunches of ramps grow) to ensure robust rampage for years to come.
- How to eat them:
Not raw, unless you're prone to walking around chawing on garlic bulbs, or have vampires over whom you'd like dominion. Better to purée, sauté to serve atop pasta or pizza, fry, pickle, or in general treat as you would scallions or garlic scapes.
One of my favorite ways to enjoy them (and I realize this flies in the face of the not-raw rule, so I never serve this to company) is to pound the greens and bulbs into pesto and spread on crackers, stir into pasta or drizzle atop roasted chicken. It works well anywhere you'd use a traditional basil pesto and can be frozen in ice cube trays (though you'll want to hold off adding the cheese until you're ready to thaw and serve it) to let a taste of spring pop up after all the ramp chatter has wilted away.
- Kat's Ramp Pesto
(originally published at Slashfood)
Ingredients (quantities to taste)
Handful of ramps – bulbs and greens
Olive Oil
Kosher Salt
Pine Nuts
Parmesan Cheese
Instructions
Roughly chop greens and bulbs into 1/2 inch pieces on a cutting board, and place in mortar or rough-textured bowl with a pinch of kosher salt. With a pestle or wooden spoon, grind the ramp against the surface of the bowl, using the salt's grit to help break down the fibers until they form a somewhat uniform paste.
Sprinkle in pine nuts and crush them into the paste with the mortar. Once they're integrated, drizzle in olive oil, stirring constantly until the desired consistency is achieved. Sprinkle in grated Parmesan cheese to taste.
Next up - morels. Got a favorite spring vegetable or a question about the ones above? Shout it out in the comments below and we'll do our best to help you make the most of it.