"Within a few minutes, I spot a rabbit and make my first kill with the bow and arrow. It's not my usual clean shot through the eye, but I'll take it," says the narrator in "The Hunger Games."
"The Hunger Games" is the wildly popular trilogy of dystopian novels by Suzanne Collins – and the narrator is not a stereotypical camouflage-clad hunter; she's a 16-year-old girl.
The eagerly anticipated first film of the series hits theaters on March 23, and with the growing popularity of protagonist Katniss Everdeen, aims to shoot down conventional ideas of people who hunt.

"When people hear that I hunt, their first reaction is usually either: 'Huh? Not many girls your age can say that,' or the standard 'I-don't-know-how-to-react' response which consists of the person raising their eyebrows to their hairlines and just saying, 'Wow!'" says Mikayla Lewis, 15, from Bend, Oregon.
Mikayla grew up in a hunting family, took up the bow at the age of two and passed Hunter Education by the time she was 10 years old. Her father is Gary Lewis, a popular outdoor writer and television host.
"In our family, we try to eat mainly wild meat. Deer and elk are staples on our table," he says.
Being part of the young adult demographic, Mikayla has read "The Hunger Games" and found more than entertainment within the pages - she found a little bit of herself.
"Katniss is a good representation of female hunters. We're not what you expect," Mikayla says. "We can be pretty just like any other girl, even if we're not afraid to get dirty."
Fifteen-year-old Savannah Rogers of Cleveland, Georgia, also grew up hunting and pored through the "Hunger Games" trilogy.
"Katniss is a very independent young woman like me, who enjoys the outdoor environment. We both like the peace and tranquility offered by the cover of the trees," she says. "Hunting offers an escape for the both of us so that we can forget our troubling lives outside of our territory."
Savannah killed her first deer at her dad's hunting club when she was eight years old. Her mom was in the box stand with her.
"I believe self-provision and self-reliance in all aspects of life are important to learn for a multitude of reasons," says Savannah's mother, Rachel Rogers. "I'll try to keep it simple. The saying, 'Give a man a fish and you feed him for a day; Teach a man to fish and you feed him for a lifetime' is true to the core."
But unlike Mikayla and Savannah, not every girl who hunts now spent their childhood tucked away in deer hunting stands.
Before becoming a cook at celebrated farm-to-table restaurant Blue Hill at Stone Barns in Pocantico Hills, New York, self-described "city girl" Georgia Pellegrini worked with a slightly more corporate crowd as a financial analyst for Lehman Brothers.
It was at Stone Barns that Pellegrini, now 30, killed her first animal - a wild turkey - at the instruction of her chef.
"It was an emotionally intense moment, but a transformative moment," she says. "It's always really scary to cross over that threshold and do something like that. But once I crossed over it, it felt very natural."
While Pellegrini says she receives the same dubious looks as Savannah and Mikayla mentioned, the overall reaction to her lifestyle is surprisingly less judgmental than she expected.
"I don't get a lot of bad reactions. I would have expected to have more," she says, adding that most of the non-hunters she has spoken to are "quietly curious;" they admire her, but don't think they could do it themselves.
In her book "Girl Hunter," Pellegrini makes sure to point out that in Roman mythology, the master of the hunt was the goddess Diana – not a man.
"It's actually a form of sophistication to know how to shoot properly as a woman in England. In this country, hunting became a sign of being less evolved, whereas in other cultures, it's a sign of being more evolved," she says.
If anything, Pellegrini asserts femininity is an advantage in the field.
"Own the fact that you're a woman. Women are wonderful shots. They're very meticulous, patient and they're very careful," says Pellegrini.
Mikayla agrees: "The stereotypical hunter is expected to be a fat, drunk dude, and the stereotypical girl is expected to be squeamish and delicate. I feel like girls who are hunters are in the special position to punch both stereotypes in the face."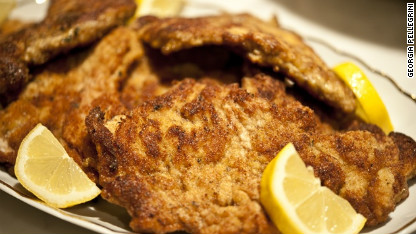 Wild Turkey Schnitzel
Courtesy "Girl Hunter: Revolutionizing the Way We Eat, One Hunt at a Time"
Serves 6 to 8
Schnitzel is an Austrian breaded cutlet, thin and fried. The Austrian woman who first cooked it for me served it with lingonberry sauce, but it would also go well with cranberry relish or your favorite chutney. It could also be served with gravy, mashed potatoes, or on a sandwich with tomato sauce.
1 turkey breast, cut thinly into slices, on the bias against the grain
1 cup all-purpose flour
1 teaspoon dried oregano
1 teaspoon garlic powder
1/4 teaspoon red pepper flakes
1 egg
1 cup panko
1/2 teaspoon paprika
1/2 cup grape seed oil
Salt and pepper
1 lemon, cut into wedges
Cranberry relish (or lingonberry sauce)
Set three plates and one wide bowl on the counter. Place a sheet of plastic wrap on the counter and lay one turkey cutlet on it. Lay a second sheet of plastic over the turkey and pound it gently with a rolling pin, meat pounder, or wine bottle until it is thin and even. Set the cutlet on the first plate. Pound the remaining cutlets and add to the first plate.
Place the flour, oregano, garlic powder, and red pepper flakes on the second plate and mix. Place the egg in the bowl and beat it lightly with a fork. On the third plate, combine the panko and paprika.
Heat the grape seed oil on medium heat in a skillet until a sprinkle of flour into the oil sizzles. Lay a turkey cutlet first into the flour mixture, then the egg wash, then the bread crumbs and place directly in the hot oil. Cook for about 2 minutes on each side and transfer to a rack set over a sheet tray or paper towel. Sprinkle with salt and pepper to preserve the crispness.
Serve immediately with a wedge of lemon and cranberry relish or lingonberry sauce.
Cranberry Relish
Makes 2 1/2 cups
4 cups fresh cranberries, washed and picked over
1 large navel orange, peel on and washed well, cut into small wedges
1 tablespoon freshly squeezed lemon juice
1 teaspoon lemon zest
1/2 teaspoon ground cloves
1/2 teaspoon grated nutmeg
1/3 cup sugar
Combine all the ingredients in a food processor and pulse until combined but still coarse.
Refrigerate in a covered bowl or glass jar overnight before serving.
This will store well for several weeks and improve with age.