5@5 is a daily, food-related list from chefs, writers, political pundits, musicians, actors, and all manner of opinionated people from around the globe.
We can all agree March 17 is a lovely day for a Guinness.
But if you're feeling the Irish spirit a bit more strongly like Jason Henry, general manager of  The Second Floor in Dallas, Texas, you might have better luck with a wee bit of whiskey.
Five Reasons Why You Should Be Drinking Irish Whiskey on St. Patrick's Day: Jason Henry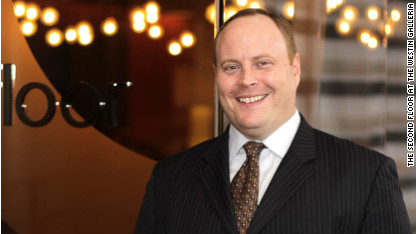 1. There's never an excuse to drink green anything
"Put down the green beer, step away from the hideous leprechaun outfit and throw away that huge, glittery gold paper hat when celebrating St. Patrick's Day this year. St. Patrick wasn't Irish and he didn't rid the Isle of snakes - but he did in fact bring the knowledge of distilling grains to make a potent dram and help Ireland now lead the world in whiskey production.
Companies like Jameson lead the pack as the fastest growing producer of Irish whiskey in the world with nearly 32 million bottles sold annually. The Irish, as opposed to their Scottish counterparts, produce less 'uisce beatha' or 'water of life' (the Gaelic term for whiskey) but create a more 'sippable' and less fussy whiskey than the Scottish are accustomed to."
2. Divine intervention
"While we can thank St. Patrick for introducing Christianity to Ireland and getting rid of paganism, we also thank the Catholic Church for briefly halting the 40 days of Lent for one day on March 17 to allow Christians to imbibe.
Grab a fellow lad's copy of Oscar Wilde's 'The Importance of Being Earnest,' and slowly pour a Midleton Very Rare to celebrate the time-honored tradition of St. Patrick's Day with class. Then get back to your 40 days of Lent on March 18!"
3. Quality over quantity
"With only four distilleries left in Ireland, much focus is driven on producing triple distilled malted barley, unlike the double distilled Scotch rendition that utilizes a smoked peat.
Irish predominately use a closed kiln with low temperatures that allow the barley to dry without needing the influence of smoke and heat to dry out the grain which take on the phenol, ethanol and charcoal characters that are so heavily present in the Islay and Island regions of Scotland.
With exceptional water supply and use of rare copper stills so prevalent and unique to Ireland, the process lends it flavor profile to a more refined, sweeter and softer potion that is copied in the 'blended' style of Scotch."
4. Good whiskey doesn't always have to be pricey
"Legends such as Midleton, Bushmills, Jameson, Erin Go Bragh and Redbreast claim residence in the Emerald Isle, and all boast a price tag less hefty than the big scotch makers, helping with the selection process.
This is due to the fact that Irish whiskey needs less time in oak to develop into liquid gold than the single malt scotches. Eight to ten years is an average hold on the dram, while scotch needs at least 12 painstaking years of waiting to mature into a refined and drinkable spirit. Go to your local dram and bottle shop and find a great Irish whiskey for under $45."
5. Stay classy
"Drink what you like and like what you drink, but do it with class and do it right. When a sophisticated drink like Irish whiskey, a few drops of water always help the spirit to open and say hello, almost like salt does to food.
Cask strength varieties (no water added after distilling) that have nearly 20 to 30% more alcohol to volume often need a few "rocks" to get them palatable and at a level more likable for the average imbiber.
I recommend also serving Irish whiskey flights with a side of coffee/espresso beans to accompany the liquid, in order to help drinkers move from sample to sample without the lingering hint of scent from a previously sipped whiskey. This helps the olfactory senses focus on something else for a brief moment before taking another sip of a different type of whiskey."
Is there someone you'd like to see in the hot seat? Let us know in the comments below and if we agree, we'll do our best to chase 'em down.