Welcome to round nine of Spouse vs. Spouse, a series in which a couple of married food freaks, CNN's Brandon and Kristy Griggs, square off in their Atlanta kitchen for culinary bragging rights – and invite you to weigh in too.
In each installment, Kristy and Brandon each make a creative variation on the same ingredient or dish – everything from pasta to seafood to cocktails to desserts. We serve both versions anonymously to our friends, who then judge which one they like better and why. We walk you through our kitchen process, bring the husband-and-wife smack talk and, of course, keep score. We also share our recipes here so that you can try them for yourself.
Our theme: sliders

March Madness is here, and if you're having friends over to watch hoops, yell at the TV and tear up your brackets in frustration, you'll need some tasty finger food to soothe the pain. In honor of the year's greatest sporting event (sorry, Super Bowl), our March cook-off features sliders -– those friendly little burgers you can gobble in about five bites.

Brandon: The artisan-burger restaurant craze of the past few years has produced some crazy-good burgers with hand-ground beef, fresh-baked buns and even homemade ketchup. They're delicious – and probably too much work for the average person to make at home. So after brainstorming my recipe, I decided to keep it fairly simple. No Kobe beef, no foie gras, no $100 grocery-store bill.
Inspired largely by a Jamie Oliver recipe, I went for cheeseburgers that have the seasoning inside the patty: chopped garlic, chopped parsley, egg, Italian bread crumbs and Worcestershire sauce. It's still too cold for outdoor grilling lots of places, but you can just cook these babies up in a pan.
Cooked properly using 80 percent-lean beef (it has the right ratio of fat), they're juicy and so flavorful you don't need condiments. I topped mine with cheddar cheese and served them on an English muffin, browned in the greasy burger pan for extra goodness.
I knew Kristy was going for salmon, not beef sliders - a risky choice. Every carnivore likes a good burger, but not everyone wants a salmon patty between their buns. Sometimes my wife's creativity in the kitchen gets her into trouble. Considering our guests this time were a young couple with a fondness for bar food, I figured I was a near-mortal lock to win this one.

Kristy: When we chose sliders, I went with salmon because I decided it would offer a little more in the creativity department—plus I knew that Mr. Play It Safe was going to make a beef burger. I went into this round thinking, "Come on, pal. When are you going to learn you gotta take some risks in this little competition of ours?"
I got off to an ambitious start by making my own buns using an easy-to-follow recipe. Unfortunately, I ended up with biscuit-like hockey pucks that largely overshadowed the salmon patty. So I scratched that idea, bought potato rolls and, using a cookie cutter, fashioned them into perfect little round buns.
Then I added the ingredients (pureed apples, mustard, honey, panko bread crumbs, salt and pepper) to the raw salmon before forming the patties. Salmon burgers can be a little tricky to make because they tend to fall apart more easily than beef patties, so I made sure I had enough bread crumbs to hold them together without overpowering the rest of the flavors.
To my delight, they cooked up beautifully. I then topped them off with bacon and a dill-based mayonnaise. The end result had me texting this to my husband: "You got trouble." Later, though, when we actually served our burgers and I compared the two, I thought I was the one who had a problem on my hands. Because he had made one tasty burger.
Judging: It was apparent early on that we had two discerning judges on our hands. Jacque and Ryan took their time eating both sliders and gave no indication of which they preferred. Instead, we toasted to Jacque's recent promotion at work and sort of forgot we were having a competition, until there was a long pause in the conversation and we all began looking at our plates - and the ballots sitting next to them.
Winner: Kristy's salmon sliders
Kristy squeaked out a win by just a point. Turns out Jacque loves salmon. Ryan preferred Brandon's, but not enough to overtake Kristy's high score. Jacque thought Brandon's "lacked originality" and said that the sauce on Kristy's slider "really made it amazing."
Overall score to date: Kristy 5 Brandon 3, with 1 tie
Parting thoughts:
Kristy: I really thought you had me this time. That originality thing keeps biting you in the butt.
Brandon: Hey, it's not like I just cooked up a frozen beef patty and slapped some American cheese on it. I can't help it if one of our judges was temporarily insane.
Kristy: Remember that Jacque also said she doesn't like bacon, and she still picked mine.
Brandon: I'll admit that yours was surprisingly tasty. But you got lucky. Four times out of five, I'd win this beef-vs.-salmon thing.
On to the recipes!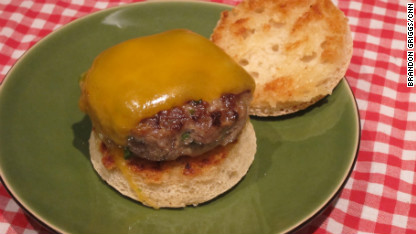 Brandon's Beef Sliders
Makes eight to ten
1 pound ground beef (80 percent lean)
6 garlic cloves, minced
3 tablespoons Italian bread crumbs
1/4 cup chopped Italian parsley
3 teaspoons Dijon mustard
1 large egg
2 teaspoons Worcestershire sauce
1 small block cheddar cheese
8 English muffins
Olive oil
Salt and pepper to taste
Using your hands or a kitchen tool, combine ground beef with remaining ingredients (except for cheese and muffins) in large bowl until well mixed. Form into small patties, about 3 inches wide and 1 inch thick. Coat lightly with olive oil and refrigerate for up to an hour or two.
Cut cheese into 1/4-inch thick slices and keep ready. Using a 3-inch biscuit cutter, core each muffin and split it half. Or, if you prefer, simply make larger patties and serve on whole English muffins.
Heat large pan on high for several minutes; turn down heat to medium and add patties. Cook about 3 (medium rare) to 4 (medium) minutes on each side, depending on your preference. After you flip them, top each patty with a slice of cheese and cover pan with a lid for the remaining 3-4 minutes to trap the heat and melt the cheese.
Remove patties from pan and immediately replace with separated muffins, middle side down. Let muffins brown slightly in the burger grease, about 2-3 minutes. Place patties on muffins and serve with condiments.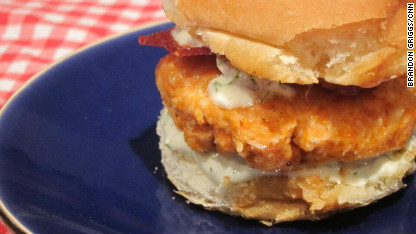 Kristy's Salmon Sliders
Makes eight
4 pieces of bacon
2 medium-sized salmon filets
1 apple
1 tablespoon Dijon mustard
1 tablespoon honey
1/2 cup of panko bread crumbs
1/4 teaspoon salt
1/2 teaspoon pepper
1 tablespoon olive oil
8 potato rolls
1 tablespoon butter
5-6 sprigs of fresh dill
1/2 cup mayonnaise
Juice of 1 lime
Brown the bacon in a frying pan (the same pan you will use to cook the salmon patties and the buns). When nicely crisped and browned, remove the bacon and place on paper towels. Pat the pieces dry.
Next, remove skins from the filets and finely chop the salmon meat. Remove the skin from the apple, cut into pieces and then puree it. You can also finely chop the apple but make sure there are no chunks to ensure that the patties don't fall apart.
Add apple, mustard, honey, bread crumbs, salt and pepper to the meat and, using your well-washed or gloved hands, mix together. Form into small patties, about 3 inches wide and 1 inch thick.
Heat olive oil in the same frying pan used for the bacon over medium-high heat. Place the patties in the pan and cook each side for 4 minutes. Remove.
Slice buns in half (do this ahead of time) and, using a 3-inch round biscuit cutter, core the buns. Melt butter in the same frying pan over medium-high heat. When the pan is very hot, place the buns (round side up) in the pan and fry for 2-3 minutes and remove from pan.
Place dill, mayo and lime juice (add some sugar to taste if it's too tart) to a food processor and puree for 1-2 minutes. You could easily finely chop the dill and mix the ingredients together in a bowl. Spoon dill mayo on buns, place patties on bottom bun and top with bacon. And voila! Yummy, and winning, salmon sliders.
Previously: Soup showdown and make a chocolate souffle at home
All National Cheeseburger Day coverage