Steven Weinberger is a Senior Systems/Software Developer at CNN and maintains Kosherblog.net. Follow him on Twitter @KosherDIY.
The darndest things show up on our desks. Usually they're edible or drinkable (no, thank YOU, makers of smooth, elegant Courvosier Connoisseur), but few make us as giddy as a flash drive loaded with pictures of the latest creations by our resident Kosher kitchen wizard Steven Weinberger.
We didn't get a whole lot of details this time - "The pictures speak for themselves," he e-mailed. But when he materialized later, he mentioned he'd augmented these hamantaschen (which he'd actually made during Hanukkah, and which are also spelled "hamantashen") with a batter made from some funnel cake mix purchased at Bed, Bath & Beyond, sticks and 375°F Wesson vegetable oil.

Again, it is not ours to question these mitzvahs, but today, hamantaschen were not a total surprise. The Jewish holiday of Purim starts at sunset and continues through tomorrow, and along with kreplach (thin-skinned, beef, chicken, or cheese-filled dumplings served in soup), hamantaschen generally make an appearance during the festivities.
Fillings like poppy seeds, chocolate, cheese and caramel, or dried fruits like dates, prunes, apricot or apples, are placed in the center of a circular piece of dough, which is then folded into a three-cornered shape and baked. Depending on whose tradition you're following, the shape may symbolize the three-sided hat, pockets or ears of Haman, the villain of the Purim story, and consuming the sweet treat is a way to celebrate his defeat and abolish his memory.
While some recipes call for butter, pareve margarine (which contains neither meat nor dairy) may be a safer bet for the fat, depending on the contents of the aforementioned kreplach. Adherence to and interpretation of Kosher law varies considerably throughout the world, but it may just be best to steer clear of any potential meld of dairy and meat.
Also on the books is a mandatory reading aloud of the Book of Esther (from whence the story of Purim comes), as well as gifts of "mishloach manot." That entails giving two different types of ready-to-eat foods to at least one person. Though mourners are exempt from the practice, the financially-challenged are not, and are generally counseled to exchange food with a friend, so they both fulfill the mitzvah.
Gifts are to be substantial enough to be considered of consequence, and we have a sneaking suspicion the effort entailed in battering and deep-frying hamantaschen would suffice.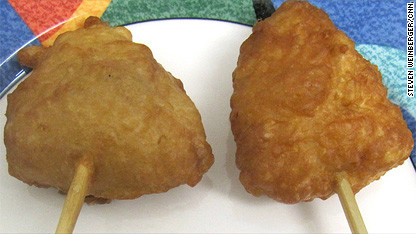 When we think Jewish cooking, we think Joan Nathan. Dig into her Orange Poppy Seed Hamantashen recipe (with butter) or try her Fruit-Filled Hamantaschen from Philadelphia (with butter or pareve margarine).
Read more on faith and food the Belief Blog