Every move of the current President is documented in detail, but historians have to search through journal entries and letters to learn about the daily routines of our First President.
"We know that George Washington's step-granddaughter, Nelly, wrote that George Washington's favorite breakfast was hoecakes swimming in butter and honey," said Melissa Wood of the Mount Vernon Estate and Gardens. The recipe is on display until August 2013 as part of the "Hoecakes & Hospitality: Cooking with Martha Washington" exhibit at the Mount Vernon museum.
In honor of George Washington's 280th birthday, four Washington, D.C. chefs were invited to his Mount Vernon home to recreate the first President's favorite breakfast. Each culinary team invoked its own twist as they cooked modern versions over open fire pits for guests who were touring the estate.


"I had never heard of hoecakes before," said Chef Cathal Armstrong of Restaurant Eve, in his thick Irish accent. "I'm originally from Ireland so we didn't have much corn growing there."
The chef did his research to prepare, and learned a hoecake is, "basically a cornmeal pancake that was made on a hoe that they used in the gardens."
Chef Armstrong, wanted his interpretation of the recipe to be authentic to what would have been available in Virginia back in 1821 when Nelly wrote the recipe.
"We finished it with things that they would have grown in the farms around these areas, so cherries, obviously George Washington was famous for his cherries. Then we used some apples and then pecans from Virginia and then a little splash of maple syrup. So we did a sweet version. Pretty tasty."
Chef David Guas of Bayou Bakery wanted his hoecakes to represent his Cajun roots. "Compound pepper jelly butter will go on top and then a little drizzle of Louisiana cane syrup," said Chef Guas. "That's where I'm from so it is kind of like our honey. I wanted to put my spin on this day. It is actually produced, milled and canned in the hometown of my aunt in Abbeville, Louisiana, where they still speak French."
All four chefs rolled out new recipes for the event, and left their modern appliances to cook over an open flame, without electricity. The biggest challenge with cooking outside: the cold morning.
"When we got here at 7 o'clock this morning, everything was covered in frost, so getting the temperature up to a point where we could fry things outside was the hardest part," Chef Armstrong said with a smile as he kneeled next to the fire, flipping hoecakes in his skillet, as hungry guests looked on. "But we're warm and toasty now."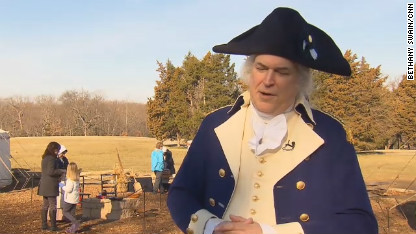 Nelly Custis's Recipe for Hoecakes
Courtesy of the Mount Vernon Ladies' Association
George Washington's typical breakfast has been described by both members of his immediate family and by several of their guests, as well. One of the best descriptions was left by Martha Washington's youngest granddaughter, Nelly, who was raised at Mount Vernon after the death of her father:
"...He [George Washington] rose before sunrise, always wrote or read until 7 in summer or half past seven in winter. His breakfast was then ready—he ate three small mush cakes (Indian meal) swimming in butter and honey, drank three cups of tea without cream..." These "mush cakes" were also called "Indian hoe cake", "cake of Indian corn", "Indian cakes", and "Indian corn cake". Given below are Nelly's recipe for hoecake, which may be similar to what was served at Mount Vernon during her childhood, and a modern adaptation of that recipe.
I. Original Hoecake Recipe
Excerpt from a letter written at Woodlawn Plantation by Nelly Custis Lewis, Martha Washington's youngest granddaughter, to her long-time friend, Elizabeth Bordley Gibson of Philadelphia, January 7, 1821:
"...The bread business is as follows-if you wish to make 2 1/2 quarts of flour up-take at night one quart of flour, five table spoonfuls of yeast & as much lukewarm water as will make it the consistency of pancake batter, mix it in a large stone pot & set it near a warm hearth (or a moderate fire) make it at candlelight & let it remain until the next morning then add the remaining quart & a half by degrees with aspoon [sic]-when well mixed let it stand 15 or 20 minutes & then bake it-of this dough in the morning, beat up a white & half of the yolk of an egg-add as much lukewarm water as will make it like pancake batter, drop a spoonful at a time on a hoe or griddle (as we say in the South)-When done on one side turn the other-the griddle must be rubbed in the first instance with a piece of beef suet or the fat of cold corned beef..."
II. Adaptation of the Hoecake Recipe
Yield: Will easily feed a school class
Ingredients:
8 3/4 cups white cornmeal
1 1/4 teaspoons dry yeast
1 egg
Warm water
(Optional: you may want to add a little salt to the batter)
Shortening or other cooking grease
Honey (buckwheat honey is really good with hoecakes)
Butter
1. In large container, mix together 4 cups white cornmeal, 1 1/4 teaspoons dry yeast, and enough warm water to give the mixture the consistency of pancake batter (probably 3 to 4 cups). Cover and set on the stove or counter overnight.
2. In the morning, gradually add remaining cornmeal, egg, and enough warm water to give the mixture the consistency of pancake batter (about 3 to 4 cups). Cover and set aside for 15 to 20 minutes.
3. Add cooking grease to a griddle or skillet and heat until water sprinkled into it will bead up.
4. Pour batter, by the spoonful, onto the hot griddle. (Note: Since the batter has a tendency to separate, you will need to stir it well before pouring each batch.) When the hoecake is brown on one side, turn it over and brown the other. Serve warm with butter and honey.
Modern-Day Hoecakes
Courtesy Chef Cathal Armstrong of Restaurant Eve
Ingredients:
1 cup self rising flour
1 cup of cornmeal
2 eggs
1 Tbsp. of sugar
1 pinch of salt
1 can of corn kernels, pureed and strained
1/4 cup of buttermilk
1/4 cup melted butter, preferably Kerrygold Pure Irish Butter
Method:
Mix all dry ingredients. In a separate bowl, mix all wet ingredients. Fold the wet ingredients into the dry and mix.
Heat a cast iron skillet. Over medium heat, cook the hoecakes on both sides, as you would a pancake.
Apple Cherry Pecan Relish
Ingredients:
1 cup of dried sour cherries
1/2 cup simple syrup
3 Pink Lady apples, peeled and diced
2 cups pecans, rough chopped
Method:
Poach cherries in simple syrup until plump and tender. Strain out liquid and set aside.
Rough chop cherries in a food processor. Take poaching liquid and reduce by half with a vanilla bean. Poach apples in strained liquid until tender, about 4 minutes.
Mix apples, cherries and remaining liquid together together in a bowl. Slowly add nuts in until you reach a desired consistency.
Previously – George Washington, whiskey maker and Drink like a Founding Father and Sampling the spirits of a president's old haunt