Welcome to round eight of Spouse vs. Spouse, a series in which a couple of married food freaks, CNN's Brandon and Kristy Griggs, square off in their Atlanta kitchen for culinary bragging rights – and invite you to weigh in too.
In each installment, Kristy and Brandon each make a creative variation on the same ingredient or dish – everything from pasta to seafood to cocktails to desserts. We serve both versions anonymously to our friends, who then judge which one they like better and why. We walk you through our kitchen process, bring the husband-and-wife smack talk and, of course, keep score. We also share our recipes here so that you can try them for yourself.
Our theme: Romantic desserts



Kristy: Ahh, Valentine's Day - nothing like a holiday that requires you to prove your love to someone. This week many of us will be buying large bouquets of red roses or penning witty poems meant to evoke tears, or hugs, or more involved acts of physical groping. And God bless the poor saps who shell out thousands for a new diamond something or other.
Well, what if there was another option? Something creative. Tasty. Interactive? Think whipped cream and chocolate - in the kitchen. In honor of Valentine's Day, Brandon and I chose romantic desserts as this month's cook-off theme.
Right away I knew what I was going to make: individual tres leches cakes. I was introduced to this lovely confection on a trip to Mexico many moons ago. Considering the spongy white cake is bathed in a rich mixture of three types of milk - and a little brandy in this case - it's amazing that it's not heavy. It's also easy to make, and ideal for playing around with flavors, such as special sauces or fresh fruit.
I iced the cake in the traditional fashion with heavy whipping cream, but I made a spicy chocolate sauce that I served on the side and added a few fresh raspberries. For presentation's sake, I garnished it with edible flowers. The result was a tasty creation that looked pretty, too. Considering my husband was recovering from ACL surgery while he was concocting his dessert, I felt confident. And I was determined, despite his sorrowful state, not to take pity on him and give him any tips.

Brandon: OK, so I started this bake-off with two disadvantages. First, although I have an insistent sweet tooth, I have almost no experience making desserts. I've only baked a few things in my life, not counting my brain in college. (Hahaha, just kidding, mom! Okay, not really.)
And second, yep - I had knee surgery a few weeks ago. Have you ever tried to cook anything while hobbling around on crutches? It's not easy. So I figured whatever I made this time would have to be simple. No souffles, no seven-layer chocolate-raspberry torte, no confection that arrives theatrically at the table in flames.
Since I knew my wife was making a bland ol' white cake, I figured I'd go the opposite route: Dark, luscious chocolate. Who doesn't love chocolate? I've always liked those spongy pudding cakes that you practically have to eat with a spoon, so I scoured some recipes until I found one from Bon Appetit that looked tasty and - more importantly - easy to make.
When I did my test runs I changed around a few things, like switching the mint to hazelnut, increasing the baking time to make it hold together better, and adding a scoop of vanilla ice cream. And I soon realized that what I was making was basically a modified version of the chocolate lava cake that's on every chain-restaurant menu from Tucson to Toledo. You know, the kind that's shaped like a little volcano, with warm chocolate oozing out from the middle? Oh, they love it at Applebees!
Here I am, a food person on a food blog, making perhaps the most unoriginal dessert in America. But our cook-off was the next night, and it was too late to switch. Besides, I was serving freakin' molten chocolate! C'mon!
Judging: Our friend Ashley enjoyed both desserts, but said "the pudding cake was so much chocolate it was almost bitter" while the tres leches was "much lighter," with a chocolate sauce that was "a nice touch."
Her husband Donnie pronounced the tres leches cake "beautiful with the flowers. It had a nice, subtle sweetness." Neither of them could taste the hazelnut in Brandon's chocolate cake. When we tallied up the points on taste, presentation and (gulp) originality, the final score wasn't that close.
Winner: Kristy's tres leches cakes
Overall score to date: Kristy 4, Brandon 3, with one tie
Parting thoughts:
Kristy: I told you last time I wasn't givin' you any tips, yo! Even though you looked pathetic hobbling around the kitchen on crutches and I knew your cake was too bitter, I stuck to my guns and creamed ya!
Brandon: That's my wife, folks. So sweet.
Kristy: P.S. I love you.
Brandon: I'll be off the crutches in a week and plotting my comeback, which I can promise will involve nothing from a T.G.I.Friday's menu. You're toast next time. I guarantee it.
On to the recipes!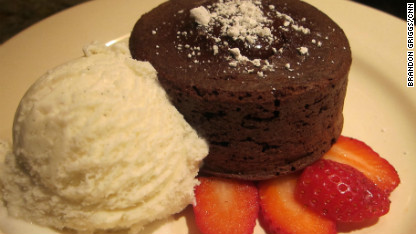 Brandon's dark-chocolate hazelnut pudding cake
6 ounces bittersweet chocolate
1/2 cup (1 stick) unsalted butter
3 large eggs
3 egg yolks
1/3 cup sugar
1/4 cup all-purpose flour
1 teaspoon vanilla extract
1/4 teaspoon salt
1 tablespoon powdered sugar
1/4 cup (at least) hazelnut liqueur (I used 3 Tablespoons, and the flavor wasn't strong enough)
1 pint vanilla ice cream
Fresh strawberries for garnish
Preheat oven to 375°F. Lightly butter four one-cup ramekins, or small round baking dishes. Stir chocolate and butter in saucepan over medium-low heat until melted and smooth. Remove from heat and cool slightly.
Using electric mixer, beat eggs, egg yolks and 1/3 cup sugar in large bowl until slightly thickened, about 3-5 minutes. Add flour and beat til blended. Add chocolate mixture, salt and hazelnut liqueur and beat briefly until mixed.
Pour batter into ramekins, filling them to about 1/2 inch of the rim. Place ramekins on baking sheet and bake until edges are firm and starting to darken or crust slightly but a toothpick inserted in the middle comes out with wet batter attached (the recipe says 11 minutes, but in my oven I found 15-18 worked much better). Remove from oven; run knife around the edges to loosen cake.
Place small plate atop one ramekin. Using oven mitts, hold the two together tightly and turn upside down, allowing the cake to wriggle out onto the plate (you may have to jiggle them a little). Repeat with three other cakes. Top each with dash of powered sugar and serve immediately with scoop of vanilla ice cream and strawberry garnish.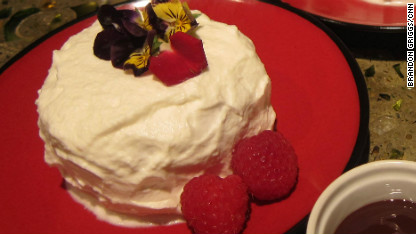 Kristy's Tres Leches With Love
(Makes six)
I used 3-inch ramekins, but you could get away with filling six cupcake tins. Also, you can half or quarter this recipe without problems.
Cake ingredients:
1 1/2 cups flour
1 teaspoon baking soda
1/2 cup butter
1 1/2 cups of sugar
5 eggs
1 teaspoon vanilla
7 ounces of sweetened condensed milk
1 cup of milk
6 ounces of evaporated milk
1 ounce brandy
1 teaspoon cinnamon
Chocolate sauce ingredients:
1 cup heavy cream
1/4 cup sugar
7 ounces semi-sweet chocolate chips
1/2 teaspoon red pepper flakes
Frosting:
1 cup heavy whipping cream
1 cup of sugar
Garnish with raspberries (or other fruit) and edible flowers (optional)
Preheat oven to 350°F. Let butter sit at room temperature for 10 minutes and grease (with butter) the ramekins or cupcakes tin.
Combine flour and baking powder in a small bowl.
Beat butter and sugar together until creamy. Add the eggs and vanilla until well combined. Gradually beat in the flour mixture until the batter is well blended.
Pour into individual/cupcake tins and bake for 20 minutes. Check the cakes with a toothpick to make sure they are done (the toothpick should be clean, no batter on it). Use the same toothpick to pierce the cake's tops 10-12 times; this is how the liquid will be absorbed into the cakes.
While the cakes are cooling, combine the three milks and brandy in a bowl, stirring until well blended. When the cakes have cooled, pour a quarter-cup of the liquid over each one until it is absorbed. If the liquid is absorbed quickly, pour more over the cakes until you can see a bit of the liquid oozing out around the sides of the cakes (not overflowing).
Place the cakes in the refrigerator for at least an hour. This gives them time to fully absorb the milks.
While the cakes are chilling, slowly bring the heavy cream and sugar to a boil over medium heat. Pour the chocolate chips into a bowl and pour the hot cream/sugar over the chocolate chips, stirring until smooth. Set aside.
When the cakes are ready, whip the cream and sugar together and generously spread the frosting on all sides with a butter knife.
Garnish with flowers and raspberries, and serve the chocolate sauce on the side or drizzle over the top.
Previously: Soup showdown and make a chocolate souffle at home