5@5 is a daily, food-related list from chefs, writers, political pundits, musicians, actors, and all manner of opinionated people from around the globe.
Editor's Note: Raised in Versailles, France, Dominique Crenn is now the executive chef of Michelin-starred Atelier Crenn in San Francisco.
French fries (or frites, as the French will say) are loved by many, including the queen herself, Julia Child, who once said, "Potatoes are strange animals."
The French fry has a long history in the human diet. When I think of them, I recall my mother's crisp, perfectly salted, skin-on frites - never greasy, and made each Sunday with the Brittany-grown potato in my childhood home.
Because I grew up with what were surely the best and truest frites in the world, I tend to have very strong opinions on this matter, as admittedly, I have on many food matters. There will be no ordering of French fries anywhere unless I have done my homework. And just because an ingredient, like the potato, is "common" or humble does not mean that it should not be respected and cooked well.

A debate long-standing and rich with rivalry: who invented the food that we call the French fry? People, I ask you: does the very name not speak for itself?
The French claim the invention of the French Fry during the French Revolution, a tale of Parisian cooks frying the modest tuber under the Pont Neuf bridge. Belgians claim creation around the same time when frying the potato became necessary during a very difficult winter of frozen rivers; allegedly, out of a lack of fish, many potato preparations were born.
Here's what I think, above all: I love the French fry, regardless of its origins. (But remember the name.)
1. How to make a perfect French fry, à la my mother
Choose a potato with a low percentage of humidity. Russet are best.
Peel the potato and wash it in cold water to eliminate the starch.
Cut the potato into batons.
First, blanch the potato at 325°F for 5 minutes, then let the potato rest and cool.
Next, fry the potato at 375°F in a good frying oil, ideally blended oil, which will give the potato (that is now becoming a fry) a nice crispy texture.
Season your fry with sea salt. Eat.
2. Frites et chocolat - think fries and a chocolate shake
Follow the first recipe of cooking. Then, add cinnamon and sugar to fries.
For chocolate dip:
2 whole eggs
5 oz of dark chocolate (Valrhona is my favorite)
1 pinch of sea salt
2.5 oz of softened goat butter (of course, use cow butter if it's all you've got)
Melt the chocolate and 2 oz of butter over a double boiler.
Take off heat and add 2 egg yolks to the rest of the goat butter and stir into the melted chocolate.
Whip the 2 egg whites with a pinch of sea salt and fold into the chocolate mixture.
Dip sweet and savory fries into chocolate. Eat.
3. Another fun way to dress up Madame Frite
Follow the first recipe of cooking.
For cashew dip:
3.5 oz of toasted cashews
8 oz of water
1 tsp chopped Italian parsley leaves
1 tsp chopped tarragon leaves
1/2 tsp chopped mint leaves
0.25 oz sherry vinegar
1 clove of garlic
Salt and pepper to taste
In a mixer, blend the toasted cashews, water, garlic and sherry vinegar until smooth.
Strain the mixture and add the herbs, salt and pepper.
Dip fries in cashew dip. Eat.
4. Not fried fries
1 Russet potato
1 Tbsp olive oil
1/3 Tbsp piment d'Espelette
1/4 Tbsp ground cumin
Peel the potato and wash it in cold water to eliminate the starch.
Cut the potato into small wedges or however you imagine a fry to be shaped.
Add olive oil, piment d'Espelette and cumin to the cut potatoes and mix well.
Organize the seasoned potatoes on a baking sheet and bake them at 425°F for 30 minutes.
Let the seasoned potatoes rest for 10 minutes and bake them again at 425°F for 10 more minutes.*
*A note from the Crenn kitchen: The reason I rest the fries is so that they cool, because once they do, and are reintroduced to heat, you can achieve a much crispier fry.
5. French Fries à la Crenn - A modern way to cook potato
For this sous vide version, as with fried and baked preparations, choose a potato with a lower percentage of humidity, like Russet.
Once again, peel the potato and wash it in cold water to eliminate the starch.
Cut the potato into batons.
In a vacuum bag, put the potato batons to brine with water and sea salt. Seal the bag and refrigerate it for about 15 minutes.
Drain the potato and put it in another vacuum bag with duck fat. Seal it and cook it in a circulating water bath at 185°F for 1 hour. Then let cool.
Deep-fry the potato at 375°F in duck fat until golden brown. Eat.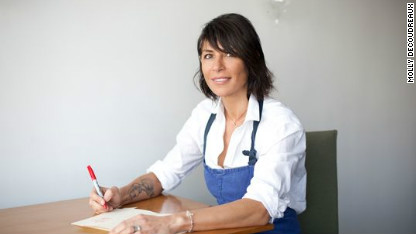 Is there someone you'd like to see in the hot seat? Let us know in the comments below and if we agree, we'll do our best to chase 'em down.