Editor's note: Valentine's Day has passed, but this tutorial is just as sweet on February 28, which just happens to be National Chocolate Soufflé Day.
As Valentine's Day draws near, the romantically inclined among you are officially in full-on scheming mode.
You could partake in a heavy, pricey, prix-fixe meal with one hundred other canoodling strangers at the city's "most romantic" restaurant - or you could go the trés romantique route and woo your beloved the homemade way.
For dessert, might we propose a soufflé?
Jacques Capsouto, owner of soufflé-centric French bistro Capsouto Frères, is here to deflate the myth of soufflés as kitchen catastrophe. All that's required is a little heart, a soupçon of practice time, a foolproof recipe and someone to share it all with.
Soufflé
Makes 6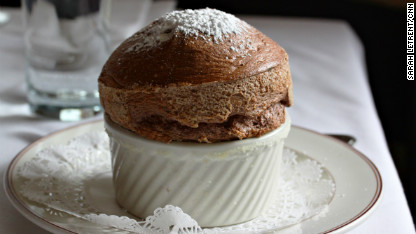 Ingredients
Chocolate mixture (recipe below)


8 dashes

Grand Marnier or orange liqueur


6

four-inch ramekins, buttered and sugared

16

egg whites (2 cups)

Dash of cream of tartar or salt

6 Tbsp

confectioners' sugar

Chocolate sauce (recipe below)


6 oz

crème Chantilly (recipe below)

Cooking Directions
Preheat oven to 350 degrees Fahrenheit.
In a bowl, combine the chocolate mixture with two dashes of Grand Marnier. Add a dash of liqueur in each ramekin.
In another bowl with a mixer, add egg whites and cream of tartar; beat until soft peaks form. Add confectioners' sugar until stiff peaks form. Do not overbeat.
Add 1/3 of the egg whites into the chocolate mixture, then gently and quickly fold the next third and then the last third.
Divide evenly into the six ramekins; tap on the counter to settle and wipe off excess.
Bake in oven for 15 to 20 minutes until puffed and golden. (Do not open the oven while the soufflés are cooking.) Serve immediately.
At the table, gently pierce the top of soufflé, pour in some of the chocolate sauce and top with crème Chantilly.
Chocolate Mixture
Ingredients
Cooking Directions
In a pot, bring sugar and water to a boil; allow to cool.
Sift cocoa powder into syrup mixture.
Add melted butter, vanilla and salt; stir.
Chocolate Sauce
Ingredients
1/2 lb

bittersweet chocolate


1 Tbsp

butter

1 cup

milk

1 cup

heavy cream

1/4 cup

sugar
Cooking Directions
Melt chocolate with butter in double boiler.
In a separate pot, bring milk, cream and sugar to a boil.
Whisk milk, cream and sugar mixture into chocolate; slowly incorporate each amount before adding more.
Crème Chantilly
Ingredients
1/4 cup

heavy whipping cream

1 tsp

sugar

1 dash

pure vanilla extract
Cooking Directions
Combine all of the ingredients in a bowl; beat until thick, either by hand or with a mixer. Do not overbeat. Sugar and vanilla may be adjusted according to taste.