It's rare that we just plain ol' run a recipe on this site, so you know it's got to be awfully good. We're huge fans of women who play with fire and love Jennifer Chandler's quick, fresh, fantastic style of cooking.
When she told us she had a few Super Bowl-centric recipes from the upcoming "Simply Grilling: 105 Recipes for Quick and Casual Grilling," (and the guts to say her fried chicken method improved upon the classic one), we grabbed them and ran to glory. You should, too.
Got a layer of snow on the grill cover? Brush it off and spark it up 'cause it's game time.

Buffalo Sliders with Blue Cheese Slaw
From Simply Grilling: 105 Recipes for Quick and Casual Grilling (Thomas Nelson, April 2012) by Jennifer Chandler
Serves 6
Burgers meet Buffalo Chicken Wings. What better combination for a game-day appetizer?
1/4 cup Buffalo hot sauce
1/4 cup mayonnaise
2 cups shredded cole slaw mix (or finely shredded green cabbage)
1/2 cup blue cheese dressing
1/4 cup crumbled blue cheese
Kosher salt and freshly ground black pepper
1 1/2 pounds ground beef chuck or sirloin
Vegetable oil, for the grates
16 slices baguette or 8 mini-hamburger rolls, toasted
In small bowl whisk together the hot sauce and mayonnaise. Refrigerate until ready to serve.
Place the slaw in a medium bowl. Add the blue cheese dressing and crumbled blue cheese. Toss until evenly coated. Season with salt and pepper to taste. Refrigerate until ready to serve.
Place the ground beef in a large bowl. Generously season with salt and pepper. Divide the meat into 8 equal portions. Being careful not to overwork or compact the meat too much, pat each portion into a 3/4-inch thick patty.
Preheat a clean grill to medium-high with the lid closed for 8 to 10 minutes. Lightly brush the grates with oil.
Place the burgers on the grill. Close the lid and cook, turning once, until desired temperature, about 4 to 5 minutes per side for medium. About 1 minute before the burgers are done, place the buns, cut-side down, on the grill and cook until lightly toasted.
To serve, place the burgers on the toasted bread. Spoon the buffalo mayonnaise on the burgers and top with the blue cheese slaw.
Variation: For a leaner burger, substitute ground turkey for the ground beef. Since turkey is so lean, be sure to use ground turkey that is at least 7 percent fat. Using anything leaner will result in dry burgers. I recommend adding 1/4 cup Panko bread crumbs to help the ground turkey hold together better on the grill.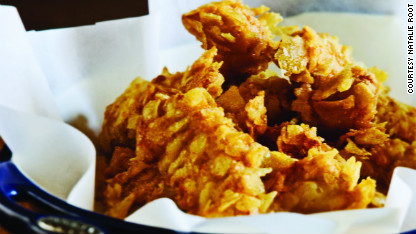 Potato Chip Chicken Tenders
From Simply Suppers: Easy Comfort Food Your Whole Family Will Love (Thomas Nelson, 2010) by Jennifer Chandler
Serves 4 to 6
Old-fashioned fried chicken is good, but I think my version raises the bar.
1/2 cup all-purpose flour
Kosher salt and freshly ground black pepper
2 large eggs, lightly beaten
1 bag (11-ounce) Lay's® potato chips, crushed
4 boneless, skinless chicken breasts (about 11/2 pounds)
Vegetable oil, for frying
Preheat the oven to 350 degrees. Line a baking sheet with parchment paper.
Place the flour in a shallow bowl and season generously with salt and pepper. Place the beaten egg in another shallow bowl. Leave the crushed potato chips in the bag. (This way you don't dirty another dish!)
Rinse the chicken and pat dry with paper towels. Slice each chicken breast lengthwise into 4 or 5 strips. Generously season the chicken with salt and pepper. Working in small batches, lightly dredge both sides of the chicken in the seasoned flour, shaking off the excess. Next dip the chicken in the egg wash to coat completely, letting the excess drip off. Then dredge the chicken through the crushed potato chips, evenly coating on all sides. Place the prepared chicken on a baking sheet or cutting board.
In a large stockpot or Dutch oven pour enough oil so that there is an approximately a 1-inch layer of oil. Over medium-high heat, warm the oil until a few droplets of water sizzle when carefully sprinkled in the pot. In batches so as not to over crowd the pot, cook the chicken until golden brown, about 3 minutes per side. Transfer the chicken to a baking sheet lined with parchment paper. Transfer to the oven and bake until the chicken is cooked through, about 15 to 20 minutes. Serve warm.
Cooking Tip: I like to serve this with my homemade honey mustard sauce. Just whisk together equal amounts prepared yellow mustard, whole-grain Dijon mustard, and mayonnaise. Add honey to taste.
Freezes well: The prepared but uncooked chicken fingers freeze well. To prevent sticking, freeze the chicken fingers in a single layer on a baking sheet before placing them in a container or freezer bag. When you are ready to cook the chicken fingers, no need to thaw. You can fry them frozen.
See more from Jennifer Chandler at cookwithjennifer.com