Welcome to round seven of Spouse vs. Spouse, a series in which a couple of married food freaks, CNN's Brandon and Kristy Griggs, square off in their Atlanta kitchen for culinary bragging rights – and invite you to weigh in too.
In each installment, Kristy and Brandon each make a creative variation on the same ingredient or dish – everything from pasta to seafood to cocktails to desserts. We serve both versions anonymously to our friends, who then judge which one they like better and why. We walk you through our kitchen process, bring the husband-and-wife smack talk and, of course, keep score. We also share our recipes here so that you can try them for yourself.
Our theme: Soup



Brandon: So the holidays are over and we're facing those bleak, cold January days when summer feels like it's years away. Well, thank goodness for soup. Few things are more nourishing on a winter day than a steaming bowl of hot broth teeming with hearty stuff - dumplings, noodles, vegetables, whatever – that emerge with each spoonful as welcome little surprises. (God, I sound like someone's grandma. Let me reach over and pinch your cheeks while I'm at this.)
When Kristy and I settled on soup for this cook-off, one soup immediately came to mind: the traditional chicken coconut soup, usually called Tom Kha Gai, that's served in every Thai restaurant I've ever been to. I'd never dreamed of making it myself, because its intense, aromatic flavors seemed too exotic to pull off. Plus it's got some seriously hard-to-find ingredients. Galangal? Kaffir lime leaves? Sure, let me just trot down to my corner grocery store and pick those up.
But because my wife can make soups that go down like liquid crack, I knew I'd have to aim high to beat her. A pleasant chicken-noodle wasn't going to cut it. So I scanned a few Tom Kha Gai recipes, changed up some ingredients, and got to cookin'. Instead of galangal I used its cousin ginger, which may be less subtle but packs a flavor punch, and instead of kaffir lime leaves I squeezed fresh lime juice. For extra spice I added chopped jalapenos, fresh lemongrass and cilantro.
When it comes to stuff you can actually bite into, most of these Thai soups have chicken pieces, mushrooms and not much else. So to boost the heartiness factor I added shiitake mushrooms, carrots, corn, and diced water chestnuts. After one failed rehearsal - way too citrusy - it all came together on the second try. I'd made a respectable Thai soup!
My wife the Soup Queen, once so confident, was suddenly nervous. Hah! Maybe I could pull off the upset.

Kristy: One thing I should know by now: overconfidence in this competition gets me into trouble. It's true that I've been enjoying making soups from scratch for a couple of years. I love that with just a few basics (like chicken broth, veggies and spices) on hand you can come up with a great soup with a little creativity and effort.
So when we settled on soups for this cookoff, I went with one I'd been perfecting for over a year; a roasted-tomato and fennel soup with hominy. I top it off with a little goat cheese and fennel sprigs.
As usual, we both did a practice run the week of the competition. Brandon chose a soup that I knew had good potential, but his rehearsal was pretty much a disaster. Feeling bad for him, as I often do, I decided to give him some pointers, like I using fresh lemongrass instead of the stuff out of the tube. He had no chance of beating me, so what was the harm? I also gave him a few tips on seasoning, and advised him not to use too much fish sauce, all the while thinking I had a real winner on my hands.
But then trouble ensued on my second and final run. First I decided the fennel should be chopped more finely, which was a mistake. Then I roasted the tomatoes and the fennel too long. By the time I put them in the broth, I had a mushy mess on my hands. Add to that a mistake on the hominy (I had purchased a large Mexican-style can, not realizing they tasted a lot different, and not in a good way, from the regular hominy I'd been using). So the taste and consistency were off, big time.
Not wanting to give up, I pureed the solids, transferred the mixture back to the soup pan and added more broth until I had a nice, silky tomato soup. Feeling like I needed to up the ante, I also made marble-rye croutons, which turned out beautifully. Suddenly my kitchen nightmare wasn't looking so bad. It might even be good enough to beat my husband's miraculously decent soup.
Judging: Our judges Carrie and Joe liked both entries, although they were hard to read at first. Carrie complimented the "unusual and interesting flavor" of Kristy's soup and thought "the croutons were a nice touch," although Joe would have preferred more goat cheese to "counteract the tartness of the tomato/fennel." Joe praised Brandon's soup for its "subtle flavors – lemon wasn't overpowering" - while Carrie called it "really delicious - and I order this soup a lot."
We couldn't help but notice that they both polished off Kristy's soup first, along with all the croutons. And sure enough, when it came time to score the soups, they had a decisive favorite. But it wasn't the one we expected.
Winner: Brandon's Thai chicken coconut soup with vegetables
Overall score to date: 3-3, with one tie
Parting thoughts:
Kristy: I don't know when I'm going to learn my lesson. No more tips for you.
Brandon: Tips!? I don't need no stinkin' tips! I got my own thing going. Besides, I can't believe you fell for my "Poor me, I'm so clueless in the kitchen" act again.
Kristy: You wouldn't have won without my help and you know it. You're on your own from now on.
Brandon: Don't flatter yourself. Tie game, baby! Or should that be ... Thai game?
On to the recipes!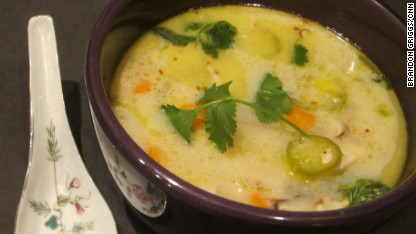 Brandon's Thai chicken-coconut soup with vegetables
32 ounces chicken broth
1 can coconut milk (13.5 ounces)
1 pound boneless chicken breast
1/3 cup fresh-squeezed lime juice
3 tablespoons Thai fish sauce
4 garlic cloves
3 jalapenos
6 stalks fresh peeled lemongrass
6 shiitake mushrooms, sliced thinly
1 tablespoon soy sauce
1 tablespoon fresh grated ginger
Dash red pepper flakes
6 ounces frozen corn
4 medium-size carrots, peeled and sliced thinly
6 ounces water chestnuts, diced or sliced thinly
1 bunch fresh cilantro
1 tablespoon olive oil
Salt and pepper to taste
Finely chop the garlic and two of the jalapenos; saute with oil on medium heat for a few minutes. Dice the chicken and sauté with dash of salt, pepper and red pepper flakes for a minute or two until the pieces are partially cooked through (don't overcook; the chicken will cook further in the soup).
Add to pot with chicken broth, coconut milk, lime juice, fish sauce, lemongrass, soy sauce and ginger. Stir and bring to a gentle boil for 2-3 minutes, then reduce heat to simmer. Add carrots, corn and sliced water chestnuts. Simmer for 30 minutes, stirring occasionally. Optional: Add more red pepper flakes, grated ginger or lime juice to taste; for a richer broth, add more coconut milk.
Slice remaining jalapeno thinly into little circles and add to soup. Simmer for 10 more minutes to tenderize jalapeno, then remove lemongrass stalks and ladle into bowls. Top with loosely chopped cilantro and a cilantro spring for garnish. Serves 4.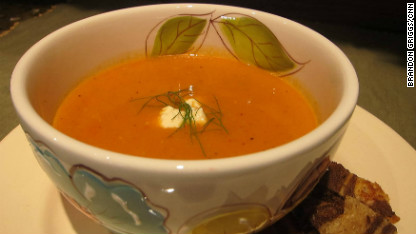 Kristy's roasted tomato and fennel soup
1 head fennel (thinly sliced, reserve sprigs)
1 tablespoon olive oil
1 pound roma tomatoes (quartered)
4 garlic cloves (peeled and halved)
1 teaspoon oregano
1 teaspoon salt
1 teaspoon pepper
1/2 teaspoon red pepper flakes
1 15.5-ounce can hominy
1 48-ounce chicken broth
1/2 15-ounce can of tomato sauce
Pinch of saffron
Juice of 1 lemon
1/3 cup port
1 tablespoon sugar
Salt and pepper to taste
1 tablespoon olive oil
1/2 teaspoon truffle oil
1 small container goat cheese
Marble-rye bread
Preheat oven to 400 degrees. Thinly slice fennel bulb and then cut lengthwise. Heat olive oil over medium-high heat, add fennel and pan-fry for 10 minutes. Add tomatoes, garlic, oregano, salt, pepper and red pepper flakes to pan, stir to combine and transfer to roasting pan.
Roast vegetable mixture in oven for 15 minutes (check to make sure the tomatoes are just browning, not mushy). While vegetables are roasting, heat chicken broth and tomato sauce over medium heat.
Add roasted vegetables and juices from roasting pan (scrape as much of the juices as possible for flavor). Add hominy beans, saffron, lemon juice, port, sugar, pinch of salt and pepper to taste, olive oil and truffle oil.
Cook over medium heat until flavors blend. Add more seasoning as needed.
(If you're interested in pureeing the soup, cook exactly as above. Let the soup cool. Scoop out as many of the solids as possible and puree in Cuisinart. Add two cups of the soup's broth and puree until the consistency is no longer chunky. Transfer to a soup pan, cook over medium heat, gradually adding two more cups of soup's broth until silky.)
For the croutons:
3 pieces of marble-rye bread (cut into pieces)
1 tablespoon butter
Parchment paper
Preheat oven to 400 degrees. Cut bread into pieces. Add butter to a medium-sized frying pan and heat until butter is just bubbling. Add bread and cook 3-5 minutes on each side. Line backing pan with parchment paper. Transfer croutons onto baking pan and place in oven.
Cook until bread has a crunch (about 10 minutes).
Ladle soup into a bowl. Place a dollop of goat cheese in the soup, top with a touch of truffle oil and fennel sprigs. Serve croutons on the side. Serves 4.
Previously: Cold weather drinks