Food in the Field gives a sneak peek into what CNN's team is eating, and the food culture they encounter as they travel the globe. Jeremy Harlan is a CNN photojournalist currently covering the New Hampshire primary. He has a hungry baby and he loves Vienna sausage.
"His name must be Mikey, because I think he likes it."
First, my name isn't Mikey. Second, I ate Life cereal almost every morning of my childhood and this particular "it" tasted nothing like Life. Third, I wanted to tell my fellow Nashua, New Hampshire diner patron that I wasn't ready to proclaim my fondness for this new taste.
I have found myself in the Granite State for my third Presidential campaign cycle. I think I've been in at least half the state's diners - most while shooting candidates pressing the flesh, posing for photos, and pleading for votes. For me, these events usually involve side-stepping pie displays, barging in on folk's breakfasts, and generally being a pain in the sides of hard-working cooks and waitresses.

But a couple days ago, I actually had a little down time to visit a diner sans camera and enjoy some breakfast. I headed back to Jackie's Diner in Nashua, recalling a tasty visit last Friday with John King, producer Laura Bernardini, and fellow photographer Jerry Simonson.
The small corner restaurant prides itself on its French-Canadian dishes. Leave it to me to order the "All-American" plate: pancakes, bacon, eggs, sausages, home fries, and toast. Okay, I ordered a side of steak tips, too. It seems that's a popular dish up here.
While I ate, I enjoyed listening to locals around me discuss the Patriots, unseasonably warm weather, and goofy media types chasing candidates. If they had known what my job is, I probably wouldn't have heard that last morsel.
By my second cup of coffee, my attention turned to the "Best of New Hampshire" awards adorning the wall. One, in particular, caught my eye. Apparently Jackie's has the best gorton. Qu'est-ce que c'est?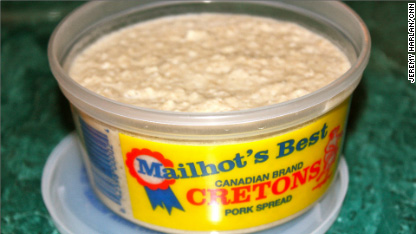 John had noticed gorton on the menu the morning before. The waitress gave him a somewhat vague answer I didn't pay attention to. So I was going to make sure I got a true taste of this stuff on my return visit.
Just before Barbara (the lovely and colorful lady behind the counter) handed me my bill, I asked her if I could try some of this gorton. I could barely get my flubbed pronunciation out before I was corrected by that native sitting next to me.
"It's pronounced gah-ton," she said in a perfect French accent. Wait, twenty seconds ago she was saying "chowdah" and "Red Sawx."
Barbara, on the other hand, wanted to make sure I knew what I was getting into.
"Do you know what it is?" she asked. I told her I thought it was some sort of pork product, maybe a kind of spread. She asked if I like that kind of stuff.
"I like scrapple," I said.
"What's scrapple?" the other patron inquired. Well, if they hadn't heard about scrapple – a loaf of pork scraps and cornmeal that is sliced and fried as a breakfast meat, and popular in the Delaware Valley and eastern Pennsylvania - I didn't feel bad about not knowing gorton.
I tried to explain, but the looks on their faces told me I wasn't doing a good job. Eventually, both ladies began to dissect their gorton recipe. It's made up of pork butt, onion, cinnamon, nutmeg, and other spices. The spread, also called cretons or corton, is popular in Quebec and this part of New England. It often draws comparisons to French rillettes, though it's usually cooked in milk or water, rather than in fat.
Barbara told me most folks eat it cold with mustard on toast or crackers. She dropped a small cup of gorton in front of me. All eyes at the counter turned my direction. I spread it on some sourdough toast. It was - interesting.
My initial impression was it tasted like cold Cincinnati chili, if you got rid of the chili powder and tomato base. It probably did need some mustard to give it a little kick. But, I must have hid my apathy for the spread fairly well because the woman next to me thought I liked it enough to call me Mikey.
I hit up the grocery store the next day to buy a small tub with crackers and mustard. This version tasted much better. In fact, it tasted exactly like braunschweiger. In my world, that's a very good thing.
So, my advice to any candidates looking to impress the locals: instead of a cliche Dunkin' Donuts French cruller, share some of this French-Canadian spread with the locals. You only Live Free or Die once.
Previously - At a Des Moines diner, voters get to the meat of the matter and Maid-Rite loose meat sandwiches – an Iowa tradition and Pancakes and politics – the finer points of the diner meet and greet