"Wait - there's an actual recipe for this?"
My husband Douglas paused his furious stirring and spun around from his post at the stove. I pointed to the book his mother, now resting in the front room, had left spread open and bookmarked on her kitchen table.
"Well yeah," I said. "Isn't this what you're using? Onion, cornbread, celery, the egg? It's the same dressing you make for Thanksgiving, and this recipe is pretty much it, right?"

The book in question was a 1954 edition of "The Betty Furness Westinghouse Cook Book," with browned pages lovingly, if semi-successfully, taped back into its jaunty yellow bindings. I carried it over to where he stood clutching his dressing-clumped spatula.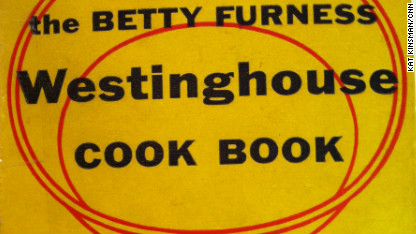 He lowered his glasses from their perch up on his forehead and perused the recipe. "This looks about right, but I swear, I have never seen that. I always just watched Memama do it."
When Douglas turned back around to his work, I could have sworn his shoulders were a little slumped. I surely had not meant to burst his bubble; his grandmother's hands-on tutelage was better than any cooking school, Michelin-starred chef, TV host or bestselling cookbook could have possibly provided. Still, I understood his letdown.
Several years back, as I was distracting myself from my own sadness and uselessness in the face of a parent's illness, I decided to make my Grandma Kinsman's beloved lemon meringue pie for whoever could choke some down.
Thanks to her careful instruction, I can bake a pie crust with my eyes closed - cutting the butter into sifted flour and flicking in just enough cold water to bind it as I blended it together with a fork before kneading. Even if my head was off somewhere in the ether, my hands were at full attention, feeling for the familiar elasticity that meant the dough was nearly ready to roll.
It was also my hands that bore the searing shock of a hot oven rack as I suddenly stumbled. Pulling the empty crust from the oven, I'd looked up at the counter where the ingredients still sat. There on the side of the Argo cornstarch box was a lemon meringue pie recipe. My grandmother's lemon meringue pie recipe. The one I'd been using all these years and I could have sworn I'd seen written down on a flour-dusted recipe card at some point during my childhood.
As I nursed my wounds, both flesh-borne and those less corporeal, I decided it didn't much matter. I hadn't needed her to be Julia Child; I just needed her to be my grandmother. And it wasn't as if she had just cribbed it wholesale. Because of her, I knew that if I didn't happen to have a zest-able lemon on hand (as she surely did not, growing up in Depression-era middle America), I could sub in an equal amount of lemon pudding mix. I also knew to feel and listen for the slight drag and slurp of a wooden spoon through the thick lemon filling when it was time to pour into the blind-baked shell.
The recipe might not have been hers to start, but she made it her own, and then made it mine, and that was good enough for me. Well, that and a second slice.
I reminded Douglas of this story (and the burn scar on my wrist) as he worked more stock into the thick, damp mixture in the two skillets. I also noted that Memama, or perhaps his own mother, had adapted the recipe with handwritten margin notes, but I couldn't tell if it was any comfort. As it was, he was running late to chauffeur his sister (recovering from hand surgery) to Christmas Eve choir practice, and asked me to take over the sacred dressing duties.
I panicked for a moment. I'd grown up in a Stove Top Stuffing household and quaked inwardly at the notion of mucking this up for the four generations of his family who'd be gathering around the Christmas dinner table the next day. "So when will you be back? How much stock do I put in? How do I know when it's ready to put in the pan?" I rifled through the book, "The recipe doesn't say!"
He slid on his coat, grabbed the keys to the rental car and gave me a quick kiss, calling behind him, "You'll be fine! Just get it really moist, but not too gloppy. You've seen me make this a million times before!"
That was true. I had. I breathed deeply and continued to stir, adding liquid and pinches of herbs until it felt and smelled familiar, then spread it into two buttered pans.
And on Christmas Day, Douglas' mother pronounced it the best she'd ever had. That, and a second helping, was good enough for me.