Welcome to round four of Spouse vs. Spouse, a series in which a couple of married food freaks, CNN's Brandon and Kristy Griggs, square off in their Atlanta kitchen for culinary bragging rights – and invite you to weigh in too.
In each installment, Kristy and Brandon will each cook a creative variation on the same ingredient or dish – everything from pasta to seafood to cocktails to desserts. We'll serve both versions anonymously to our friends, who will then judge which one they like better and why. We'll walk you through our kitchen process, bring the husband-and-wife smack talk and, of course, keep score. We'll also share our recipes here so that you can try them for yourself.
Our theme: Chili



Kristy: A couple of weeks ago, as I was thinking about what sort of chili I wanted to make for our cook-off, I received some divine inspiration. It was like I was Kevin Costner in "Field of Dreams," except the voice in my head said "deconstruct it, and they will eat."
So that very day I cooked up a batch of "deconstructed" chili – sliced filet mignon nestled on a bed of Cincinnati-style sauce, with a side of rice and beans and roasted veggies, all arranged artfully on a plate - and presented it to my speechless husband. And after he tried it, his face said it all: He was going to lose, and lose badly.

Brandon: Hey, I wouldn't go that far. But being constantly surprised by the creative workings of my wife's brain, I did wonder how she came up with that dish. It looked great and was really tasty. I'll admit it: I was impressed. But concede defeat? Never.

Kristy: Hah! He practically begged me not to make the deconstructed chili. That's how scared he was.




Brandon: I knew she'd probably beat me on originality. But I thought if I could hang with her on presentation and taste, I'd have a shot. Instead of another beef-based chili, I opted for a Southwestern turkey version, with corn and black beans for color and texture. I'd never made anything like that before, and I had no idea what I was doing. My practice version the week before our cook-off turned out OK, but it didn't have a ton of flavor. I was in trouble, and I knew it.

Kristy: In the meantime, I tested my recipe again. After we both ate it, Brandon seemed to have his tail between his legs. He said he wasn't even going to bother doing another test run of his chili. I encouraged him to give it another try - to be honest, I wanted a challenge - but he just shook his head. Coward!

Brandon: That's because I'm sneaky. And I knew she was getting overconfident. On the day of the cook-off I tried to improve my chili by dicing extra jalapenos, roasting my tomatoes before I threw them in the pot and adding white hominy – a last-minute decision - which Kristy, no doubt feeling sorry for me, agreed to pick up at the store. To make my dish more interesting, I also laid out toppings that judges could use to customize their chili: diced avocado, diced jalapenos, fresh cilantro and pepitas, or roasted pumpkin seeds. (I know, that's a lot of stuff. But I had to do something.)
The judging: As we expected, our guests/judges, Jessica and Ed, were wowed by the originality of Kristy's deconstructed chili, which they called a "risk-taker" and "a ballsy, ballsy move." But they also praised the "clean and fun" presentation of Brandon's turkey chili, along with its "interactive" condiments. We tied on taste. Suddenly, this was looking like a surprisingly close contest.
Winner: After we tallied the scores, we ended up with...a tie. We tried to get Jessica and Ed to reach a consensus – threatening to sequester them, jury-style, in our apartment until they reached a verdict – but they couldn't agree on a winner. (And they weren't just being nice.) So it's official: We have our first tie. And since nobody likes ties, we clearly need to improve our tiebreaker system.
Overall score to date: Kristy, 2-1, with 1 tie
Parting thoughts:

Kristy: OK, I was disappointed I didn't win. To his credit, Brandon's chili really came together in the end. But come on - I made deconstructed chili! Turkey chili is hardly a revelation.

Brandon: If yours was so great, why didn't you win? Deconstructed chili sounds like something dreamed up by postmodern scholars. People don't want to have to reconstruct their food.

Kristy: Well, if it hadn't been for your precious presentation - I didn't buy special little bowls for my chili - I would have won. So I'm going to fix that: For our next challenge, I'm serving my food nestled in a bowl of exotic flowers on gold plates delivered by softly cooing doves.

Brandon: I'm speechless.
On to the recipes!


Brandon's Southwestern Turkey Chili (serves 4)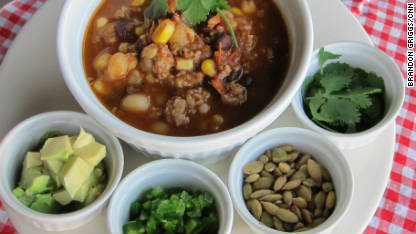 Ingredients:
1 lb. lean ground turkey (6% fat)
4 fresh tomatoes, preferably on the vine or from a farm or garden
1 red bell pepper
20 ounces chicken broth
1 can (15 ounces) tomato sauce
1 can (15 ounces) black beans, drained
1 can (15 ounces) white hominy, drained
10 ounces flash-frozen corn
4 garlic cloves
1 whole yellow onion
2 jalapeno peppers
3 tablespoons olive oil
1/4 teaspoon coriander
1 teaspoon cumin
1 teaspoon sugar
1/4 teaspoon cinnamon
1 tablespoon chili powder
1/8 teaspoon ground cloves
1/4 teaspoon allspice
2 bay leaves
1/4 tablespoon red pepper flakes
1 large avocado (ripe but not mushy)
1 bunch fresh cilantro
6 ounces roasted pumpkin seeds
8 ounces soft Oaxacan cheese or sour cream (optional)
Salt and pepper to taste
Chop garlic, onion and 1 jalapeno. Saute them together on medium heat with a tablespoon of olive oil until garlic and onions are slightly brown, then add to large pot.
Brown ground turkey in the same pan until barely cooked through and add to pot. Slice tomatoes and red pepper into large pieces, array in baking pan and drizzle with olive oil.
Roast at 450 degrees for 15-20 minutes or until edges start turning black. Chop into smaller pieces and add to pot, along with all remaining ingredients except for avocado, cilantro, the other jalapeno, pumpkin seeds and cheese/sour cream.
Simmer on low heat for two hours, stirring frequently and adjusting spices to taste.
Serve in individual bowls with condiments – diced avocado, cilantro, chopped jalapeno, pumpkin seeds and grated cheese or sour cream - on the side. Garnish with fresh cilantro.
Kristy's Deconstructed Chili (serves 4)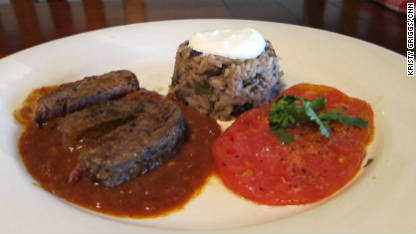 Chef's note: The rice and beans take the longest to prepare so I made them the day before. The other three components can be made at the same time, but begin with the sauce and let it simmer while you prepare the beef and roasted tomatoes.
Rice and beans (based on an Epicurious recipe)
4 garlic cloves (minced)
5 bacon strips (chopped)
2 tablespoons olive oil
1 onion (minced)
1 green pepper (seeded and minced)
1 bay leaf
1/2 teaspoon cumin
1/2 teaspoon dried oregano
1 1/2 cups long-grain white rice
2 cans (15 ounces each) black beans, not drained
1 3/4 cups chicken stock
1 tablespoon red wine vinegar
Heat olive oil in a pan and sauté garlic and bacon until lightly browned. Add onion and green pepper; cook for 10 minutes. Add bay leaf, cumin, oregano and rice until well mixed. Add black beans, chicken stock and red wine vinegar. Cook covered on medium-low heat, 35-40 minutes, or until liquid is absorbed. Fluff rice and set aside.
Chili sauce
2 tablespoons olive oil
1 onion
2 garlic cloves
Two medium-sized tomatoes, preferably on the vine or from a farm or garden
1 can (15 ounces) tomato sauce
2 tablespoons cider vinegar
1 teaspoon pepper
1 teaspoon salt
Dash red pepper flakes
1 tablespoon cinnamon
2 tablespoons chili powder
1 tablespoon cumin
2 tablespoons semi-sweet chocolate chips
Heat olive oil in a deep saucepan and brown garlic. Add tomatoes, tomato sauce, vinegar, pepper, salt, pinch of red pepper flakes, cinnamon, chili powder, cumin and chocolate chips.
Simmer until blended on medium heat.
Beef
2 medium-sized cuts of filet mignon
2 tablespoons cumin
Salt and pepper
1 tablespoon olive oil
Coat filet with cumin and lightly salt and pepper. Heat olive oil in pan on high heat, add filet and sear. Turn down heat to medium and cook until desired level (rare, medium or well-done). Slice into strips.
Tomatoes
2 heirloom tomatoes (thickly sliced)
Olive oil
Salt and pepper
Preheat oven to 450 degrees. Place sliced tomatoes on roasting pan. Drizzle olive oil over tomatoes, sprinkle with salt and pepper. Place in preheated oven and roast for 15 minutes or until lightly browned (not mushy).
Plating
Scoop rice and beans into small bowl or ramekin and pack firmly. Place bowl upside down on a large plate and wiggle bowl off so that a mound of rice and beans remains. Array roasted tomatoes on the second third of the plate. Spoon a half a cup of sauce onto the remaining third and lay slices of filet on top. Top rice and beans with sour cream and a sprig of cilantro.
Previously - Elizabeth Taylor loved chili and Lunchtime poll – your chili preferences (and the "false hunger" of Jim Backus) and Chilly weather means chili weather