Food says so much about where you've come from, where you've decided to go, and the lessons you've learned. It's geography, politics, tradition, belief and so much more.
Last week, Eatocracy invited readers to dig in and discover the rich, ever-evolving taste of America in 2011 - ultimately culminating in the fourth edition of our Secret Supper in New York City.

At the supper this past Monday night in Harlem, Eatocracy gathered together some of New York's most dynamic and vocal residents at Red Rooster to not only stuff them with a multi-course meal crafted by Marcus Samuelsson, Suvir Saran and George Mendes, but also to talk about the inextricable bond between food and cultural identity.
The video above and the Secret Supper live blog give a taste of the eclectic menu and vibrant conversation, but there's one ingredient we'd still love to have: your voice.
Each guest was asked to fill out a name tag with how they identify themselves culturally. Answers varied from "Jamerican" (Jamaican and America), "Recovering Catholic ex-suburbanite white girl mutt" and "Harlem-style G.R.I.T.S (Girl Raised In The South) to A.B.C.D. (American-Born Chinese by way of Dr. Dre), "Mysterious American Gumbo of Love" (bless your heart, Don Lemon!) and "The 'Ishes" – Scottish and Irish.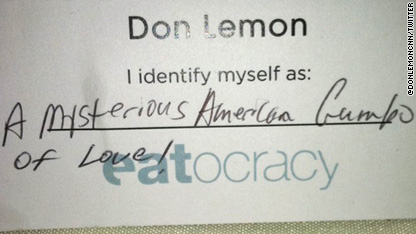 In the comments below, we'd love to hear about how you'd fill in the blank, and how the food you ate then and eat now reflects that. We'll share some of our favorite responses in an upcoming posts and maybe even at a Secret Supper in your hometown.
More on food and cultural identity:
"Cook from where you are." Chefs on food as cultural identity
Marcus Samuelsson: How I got here
iReport: Rice – the grain that feeds the planet and Comment of the Day: Rice as a tie that binds
Bridging generations and cultures, one blistering bowl of bibimbap at a time
In Queens, take the No. 7 train to the world's fare
Sweet flavors of home feed expats' souls
People of America, here's your culinary history on a plate
Moonshine, catfish noodling and a whole lotta laughs
Missing home cooking? Borrow a grandma
iReport: Feeding a heart that's hungry for home
Japan's carnivore girls and herbivore boys relish – and resist – raw meat sushi
iReport: 5 real, fast, delicious meals from around the U.S.
Sundays are for dim sum - growing up A.B.C. (American Born Chinese)
iReport: Veggie-ography of America
As American as apple pie – the origins of picnic favorites
Read up on past Secret Suppers in New Orleans, Austin and Atlanta.
Get more from CNN's Defining America