5@5 is a daily, food-related list from chefs, writers, political pundits, musicians, actors, and all manner of opinionated people from around the globe. We ran this one from pitmaster Drew Robinson a little while back, but it seemed appropriate to revisit it for National Barbecue Day.
For many, barbecue is the ultimate leveler.
When asked about bridging racial and societal gaps in the South, Southern Foodways Alliance director John T. Edge once responded with, "... There's hope in barbecue."
Southern cookbook author Virginia Willis also believes in the power of smoked meat, adding: "BBQ exist[s] without borders. Every nation under the sun throws meat on fire."
As it turns out, chef/pitmaster Drew Robinson of Jim N Nick's Bar-B-Q takes his cue from the same school of thought.
Five Reasons Why Barbecue is Important: Drew Robinson

1. Community
"At barbecue gatherings in by-gone eras, people probably didn't need a reason to be reminded to get together and share each other's time. That's just not the case anymore. People look for reasons to maintain community and their sense of place in it. Fortunately, we have barbecue as a sort of communal elixir. Barbecue is both primal and elemental which is why it has great power to equalize people. It grounds people and roots them to their place. There's something magical in that smoky meat that helps us find our common ground, our place at the table and our place in the community."
2. Having a good time
"I don't think anyone seriously connected to barbecue and barbecue culture would tell you they don't live a good life. It may be hard work, but there is never any shortage of joy and happiness over what you're doing. Firing up the pit usually means firing up the music, cooling down the beer, telling stories of varying degrees of truthfulness and being generally satisfied just to see where the time takes you. In the event you have a whole hog and the smoke and embers carry you into the wee hours, you'll usually find that's where some of the best times are had."
3. Lessons learned
"You learn a lot around the fire. The Pitmaster learns about technique, detail, hospitality and the patience only slow cooking can teach. Depending on the sauce served, you might learn a lot about geography and most certainly how to carry on a right and proper debate. But one thing the pit obviously can not teach is spelling. Barbecue, Barbacoa, Bar-B-Q, Bar-B-Que and for the truly deficient ... BBQ. If, I am missing one, please tweet me."
4. Eating your napkin
"There is more than one food that requires genuine physical engagement with true disregard for how your shirt looks after the meal, but for me barbecue stands at the top of the list. And while there is more than one way to eat barbecue, probably the most common method is on a bun or between two slices of white bread. There is something very magical and proletariat about wrapping a small mountain of well-sauced meat in a bun. It's a vehicle to transport it from plate to mouth and while you make your way to the end of the bun you can use it to sop up little drops of sauce and grease from the corners of your mouth and finger tips. It's like being a kid all over again and getting to play with your food while trying to be civil at the same time."
5. Giving thanks
"In the old days when it was hog-killing time, you'd smoke and cure the things that would get you through winter and you could save some of the fresh meat to eat as a celebration. Some folks might only have a few cuts and some folks were lucky enough to barbecue the whole hog. Either way, it was a time to give thanks for nourishment and needs being filled.
When we sit down together now, barbecue can help remind us that we need to be thankful for what we have. Hogs are one part of a food chain that have helped sustain a people and create a meaningful culture. Barbecue manifested itself as a piece of that cultural tapestry so powerfully that it even has its own subcultures. Tracing those lines back from a rack of ribs or a barbecue sandwich enjoyed with friends and family reminds us that we have a lot to be thankful for. In fact, in some households, particularly in the South, grace doesn't end with 'Amen,' it ends with 'Amen, let's eat.'"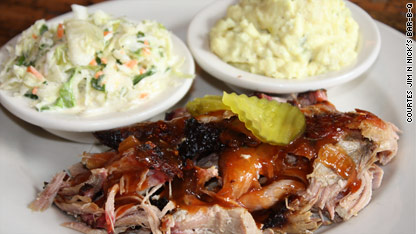 That's great, but how do you spell it? BBQ, barbecue, barbeque?
Food says so much about where you've come from, where you've decided to go, and the lessons you've learned. It's geography, politics, tradition, belief and so much more and this week, we invite you to dig in and discover the rich, ever-evolving taste of America in 2011. The week will culminate with a Secret Supper in New York City, and Eatocracy invites you to participate online starting Monday July 11th at 6:30 p.m. E.T.