A reading from the works of noted gourmands Vincent and Mary Price, from their 1965 cookbook "A Treasury of Great Recipes":
"If there is one restaurant that epitomizes New York today it is The Four Seasons. Sophisticated, urbane, expensive, its stark geometry reflects that city of skyscrapers. Nature is permitted to intrude, as it does on the city itself, in seasonal paintings that scarcely affect the austere architecture. New Yorkers who dine at The Four Seasons know which season has arrived by the plants in the window baskets. Who needs a calendar?"
"Perfectionists down to the last tiny detail, the management of the restaurant have planned a cuisine that is seasonal too. The menu changes four times a year and in this day of frozen foods that are monotonously available all year 'round, it's fun to get the fresh things only in season and only at their very best. Vegetables, usually the dullest part of restaurant meals, are a special treat at The Four Seasons. They use only young tiny ones, and you select them not from the menu but from a basket that is brought to your table. Baby peas, asparagus, beans, carrots are arranged like a rustic still life, and the ones you choose are then prepared to order for you. Desserts are wheeled over to each table on a special dessert wagon, and hors d'oeuvres are yours to choose from an iced wagon that displays them like a work of art."
Cart fetish aside, the latter half of the text seems pretty prescient about the level of locavoristic enthusiasm present in modern day New York City dining. In fact The Four Seasons is largely credited with introducing the concept of seasonality to the white tablecloth world. But while the restaurant's levels of fastidiousness, relevance and commitment to adolescent vegetables have waned in the past four and a half decades (Frank Bruni's 2007 review in the New York Times cited a squash ravioli that was "sad molehill of bland mush" and "droopy" lettuce), one thing certainly has not.
Remember way back in the second sentence when the Prices invoked expense? As it happens, the volume included a two-page spread of the summer's menu, so just for fun, we nabbed today's menu for comparison. Sadly though, it seems the a la carte options are no longer a part of the standard menu, so if one is indeed to have an in-basket viewing of an infantile mangetout, one must arrange for it in the privacy of one's own home - presumably with the permission of its parents.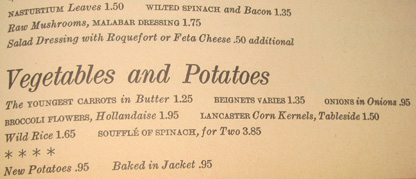 That aside, the closest analogues I can find:
(1965) Consomme Royale or Double Consomme with Sorrel – $1.25
(2011) Chicken Consomme, Matzo Balls – $21

(1965) Early Summer Greens – $1.25
(2011) Organic Greens, Breakfast Radish – $18

(1965) Young Salmon or Sturgeon, Our Smokehouse – $2.95
(2011) Scottish Smoked Salmon, Carved Tableside – $30

(1965) Roast Rack of Lamb Persille with Robust Herbs for Two – $14
(2011) Rack of Lamb, Sugar Snap Peas, Morels, Roasted Fingerling Potatoes – $65

(1965) Whole Baby Chicken, Smitane Sauce, Wild Rice – $5.50
(1965) Roast Chicken, Green Bean Salad – $5.75
(2011) Grilled Spring Chicken, Morels, Fiddlehead Ferns – $39
The point of this little menu meander (in addition to further indulging my obsession with editorial accounts of mid-20th-century New York dining)? On Saturday, Time Out New York's Jordana Rothman, James Beard Foundation vice president Mitchell Davis and I took part in a panel discussion at the JBF LTD pop-up restaurant on the topic of The State of Food in NYC, and I couldn't help but wonder to which of the dining public's current fixations we'd still be cleaving several decades down the line.
Are cupcake trucks, pop-ups, artisanal butchers, hipster farmers, heirlocaganivore vegetables, cellphone food porn snapshots and 24-7 food networks on the menu for good, or are they destined to go the way of the mangetout basket and aspic-swaddled egg? I've got a few guesses, myself, which I'll address in an upcoming post, but in the meantime - share your theories in the comments below and we just might highlight them in an upcoming post.
Now, off to rifle through my couch cushions. There's an asparagus appetizer on The Four Seasons' Spring menu and I'm only, like $24.99 away.