Fame Bites goes inside the belly of the entertainment beast. We're dishing out where the celebrities are eating, what they're eating and who they're eating with.
Eva Longoria isn't your average "Desperate Housewife" - in fact, she's anything but.
Not only is she a lean, mean, guacamole-making machine, she owns two restaurants - Beso Hollywood and Beso Vegas - and has a new cookbook, "Eva's Kitchen: Cooking with Love for Family and Friends," out in stores now. She'll also be appearing on Piers Morgan Tonight at 9 p.m. ET on April 7.

Who taught you to love food?
"My family. I grew up on a ranch, we had chickens and pigs and cows. We weren't allowed to eat fast food so it really kind of blessed me with the appreciation of where food comes from. It doesn't come from a place on the side of the street called McDonald's, it doesn't come from the supermarket, it comes from the farm.
Having that appreciation and awareness from a family of cooks, putting the ingredients together for me was magical. I thought it was such a talent to put this and this together and it comes out so great."
What is one food or drink you cannot go a day without?
"Egg whites. I'm a big breakfast person. And I eat egg whites every morning. And coffee!"
What is your favorite recipe in your cookbook? It has everything from pico de gallo to red velvet cake.
"The cookbook is really a memoir of my life told through food. It starts with Mexican cooking as I grew up with that and goes into more Americanized cooking. Then it goes into more European cooking. It definitely goes all over the place as my life has been and I have been all over the world. I love the banana nut bread - it reminds me of growing up and how I couldn't wait until the bananas went bad!"
How did you decide to open Beso and Eve?
"I wanted to open up a hole in the wall taco stand and once I met Todd English, it became a beautiful place. I'm really proud of it and I love the outcome of Beso Hollywood and Beso Vegas. I'm so involved with the restaurants, I go to Beso Hollywood two to three times a week and Beso Vegas once a month. It's definitely all about location."
If you could have dinner with anyone in the world, who would you dine with and what would you make them?
"I'd love to have dinner with Oprah [Winfrey], Hilary Clinton and Dolly Parton. Kind of an eclectic group. I would definitely cook them Mexican. Definitely make margaritas!"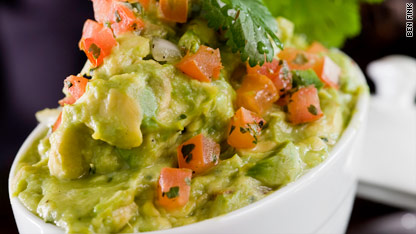 Eva's Avocado Guacamole
Serves 6 to 8
6 ripe avocados
1 teaspoon cumin powder
1 teaspoon coriander powder
1 tablespoon chili powder
1 cup pico de gallo (recipe to follow)
5 Roma tomatoes
1 yellow onion
1 fresh jalapeño
1/2 bunch cilantro
Juice of 1 lime
Salt and pepper to taste
For the pico de gallo, quarter the tomatoes and remove the seeds. Do the same for the jalapeño, unless you want some added heat then keep the seeds. Dice the tomatoes, onions, cilantro, and jalapeño, and toss in a small mixing bowl.
Remove the pit of the avocados and scoop into a mixing bowl. Using a large spoon, smash the avocados just a little so that you can work the rest of the ingredients and seasonings into them. Combine remaining ingredients and season with salt and pepper to desired taste.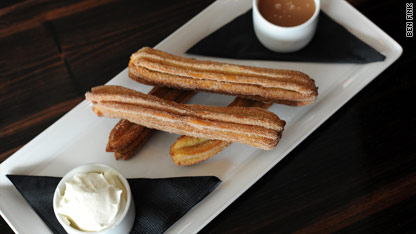 Churros
Serves 10
1/3 cup lard (pork fat)
1 cup water
1 pinch salt
1 cup flour
3 eggs
3 cups sugar
2 tablespoons cinnamon
Oil for Frying
In a medium sauce pot, bring lard, water and salt to a boil. Next, add the flour and mix until the mixture starts to pull away from the sides of the pot, and creates a film.
Remove the pot from the heat and immediately add to the bowl of standing mixer with a paddle attachment. Mix on a low speed until it has cooled to just above room temperature. Add all the eggs and mix until the batter is smooth and combined.
Transfer the batter to a piping bag with a large star tip (#7 tip) and you are ready to fry.
In a bowl combine the sugar and cinnamon, set aside till the end.
Fill another sauce pot with about 1 gallon of oil; use an oil thermometer to bring the oil to 350 degrees. Pipe the churro batter into the hot oil, 3-inch churros works well.
Fry until golden brown, then pull them out of the fryer using a slotted spoon, and toss in the sugar and cinnamon mixture.
Devna Shukla is an Associate Producer for CNN's AC360°.