The Vintage Cookbook Vault highlights recipes from my insane stash of books and pamphlets from the early 20th century onward. It's a semi-regular thing.
Well, ain't that a kick in the palate? Some of the country may be getting socked with snow, but the lack of a grill wouldn't have gotten in ol' Dino's way if he wanted a burger. No siree. And he didn't need no fancy-schmancy hardwood lump charcoal, grass-fed heirloom bison, artisanal mustard, or even a bun for that matter.
Per his recipe from The Celebrity Cookbook, edited by Ms Dinah Shore in 1996, this Rat Packer needed little more than a pan, a pinch of salt, and a shot of Kentucky's finest when he wanted to get his beef on.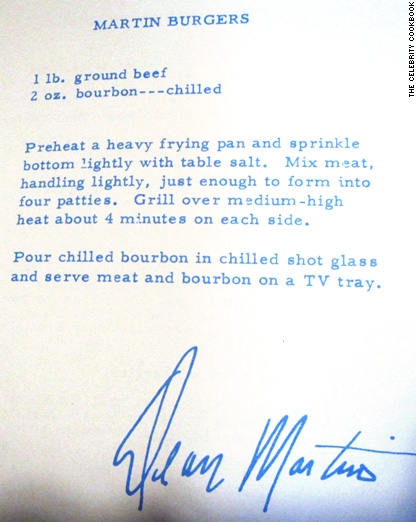 Previously – Try America's best cheeseburger