Contrary to what most people may think, life as a food editor in the Time Warner Center isn't all tweezer-peeled Ruby Roman grapes and Cherubim heart carpaccio lunches at Per Se or even sustainolocaganic kale 'n quinoa salads from the Whole Foods in the basement.
Nope - we haul our cookies up to the 10th floor "Park Cafe" employee cafeteria and stand in line for salads, sandwiches and the "action" station with the likes of Eatocracy's Senior Junk Food Correspondent Ali Velshi (when he's in town) and "In the Arena" host Eliot Spitzer (who we're pretty sure actually lives under one of the steam tables because he is ALWAYS there - not that we're, um, obsessed or anything...).
It's never gonna knock your socks off, but it's fresh-ish, not aggressively unhealthy, and the view of Central Park is all seasonally verdant and whatnot. We rarely ever eat IN the cafeteria, mind you - rather we Gollum our little salad bar clamshells back to our desks and fork it into our face holes as swiftly as possible so we can get back to writing about, you know, food. (Yes, we simultaneously embrace and bemoan the irony.)
One thing on which we never skimp, though - taking time to see what's on offer at the International Station. We've mentioned this before - the wonkily adorable theme days including "Home," "Chez Chez L'Ami Louis, Paris," "Joliet, IL," "Roscoe's Chicken 'N' Waffles" and most recent and perhaps most befuddling of all, yesterday's "Deep In My Soul."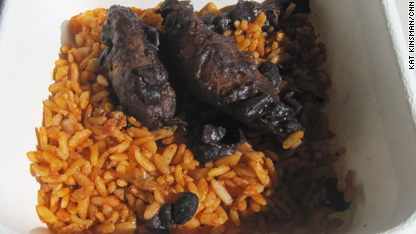 "Who is the 'My'?" we asked ourselves. Are they tapping into a universal "My"? Is it Ted Turner, himself as "My"? (Though there's a distinct lack of bison) Anderson Cooper? The great and powerful Oz?
The owner of said soul has a penchant for black bean slathered plantains, rice, grilled steak, mixed green salad, macaroni salad, rice pudding, and fried chicken. All signs point to Cuban, but, like, why didn't they just SAY that? It's not like there's an embargo on the food or the word.
The point of the natter here - it got us thinking about what it would actually taste like deep within our souls. For me, I'd go a tad funky and whiffing of brimstone - like Rogue Creamery's Smokey Blue Cheese or possibly just a bitter, bloody mess - a boudin noir chased with a cup of chicory coffee.
Et vous?