The Vintage Cookbook Vault highlights recipes from my insane stash of books and pamphlets from the early 20th century onward. It's a semi-regular thing.
Remember aaallll the way back to a few weeks ago when we posted a righteous recipe for a Frank and Corn Crown from the 1965 Better Homes and Gardens Meat Cook Book, and Sarah of all.of.my.dirty.little.secrets took up our challenge to craft one of her own at home?

She wasn't alone. Pictured above is the artful casserole styling of La Chapstick Fanatique and below, the domestic diva delights of Pulitzer Mom.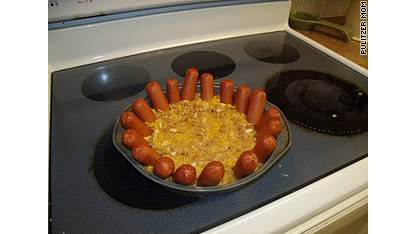 Light Green Stairs photographed a haunting rendition of the Frank and Corn Crown, which I found oddly...moving. I have issues.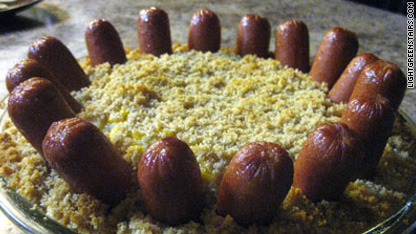 I KNOW! We're lucky enough to have some tremendously spirited, talented readers, so we're gonna make this a regular thing. We'll post a vintage recipe every week and will highlight the blogs of those who take up the mantle of making one at home. Leave a link to your post in the comments section of the post or upload via iReport. We'll start this weekend - I'm off to dig through the vault.