You know you're at a table full of New Orleanians when there's a 20-minute conversation about gumbo.
How dark should the roux be? Do you use file? Can you put meat in a seafood gumbo? (Scandal! John Besh went back and put okra and andouille into James Carville's mother's seafood gumbo recipe because he thought it was too thin! Mary Matalin applauded that move.) Is is really gumbo if there's no okra? Why does any of this matter?

There will never be a consensus so long as there's a representative of more than one parish, but there was definitely some food for thought. Leah Chase, often called the "Queen of Creole Cuisine," jokes the color of her roux should match the color of her skin, while John Besh takes his down to a deep brown, made darker with the caramelization of onion juices. Ms. Chase also expounded upon her famous gumbo z'herbes, which she makes for half the city on Holy Thursday.
It should have, she says, an uneven number of greens - five, seven or nine - and for each one you add, you'll make a new friend in the coming year. She loads the gumbo up with plenty of ham and sausage when she makes it on that day, because the Catholics of the city know that's the last big meal they'll have before Easter Sunday supper. "You'll still dying to sneak a piece of cheese on Good Friday," says Ms. Chase.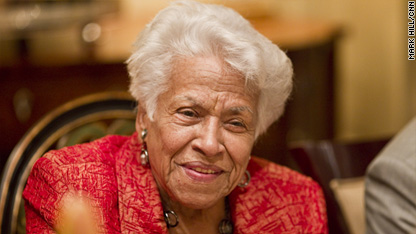 Treme writer Lolis Eric Elie noted that Ms. Chase was not giving herself enough credit. Says he, most of the city didn't, in fact, have gumbo z'herbes as a Holy Thursday tradition - until she started making it. They ate it, and keep eating it, because she made it.
She smiled. "Sometimes when you're making gumbo, people just show up."
Catch up on the Secret Supper