Eatocracy has been in New Orleans this week getting ready for the second edition of our Secret Supper, and it's finally dinner time in the Big Easy.
Democratic strategist and Louisiana native James Carville, along with his wife, Republican strategist and CNN political contributor Mary Matalin, have graciously welcomed us into their New Orleans home for this evening's soiree.
But tonight, it's more than just eating. Just as we have been all week, guests will be discussing the taste that defines the city - from oysters Rockefeller to your mother's gumbo - and how that taste helped a city cope in the aftermath of two disasters.
We've got a great line-up of guests including the "Queen of Creole Cuisine" Leah Chase, Bryan Batt of "Mad Men," local radio host and culinary activist Poppy Tooker, Captain Lance Nacio of Anna Marie Seafood, CNN Hero Derrick Tabb and many more.
But before the Sazerac cocktails and crawfish pies start flowing, a brief welcome message from the man in the kitchen tonight - cookbook author, restaurateur and James Beard Award-winning chef, John Besh. Besh has been a long-time champion of preserving the ingredients and foodways of his home - both before and after Hurricane Katrina. Besh and his team even went so far as to use his flagship restaurant, August, as a home base to feed Hurricane Katrina relief workers in the aftermath of the flood - and since then, he has continued to make it his mission to protect the city's unique culinary heritage.
The table is all set. As guests arrive, the likes of duck liver cannoli, venison-jalapeño poppers and crawfish pies are being passed around. Meanwhile, Carville is on the couch talking the state of Louisiana seafood with shrimper Lance Nacio and local farmer Chris Meredith.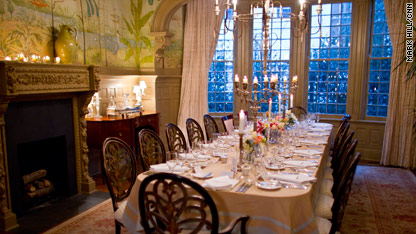 A bird's-eye-view of the meal's preparation.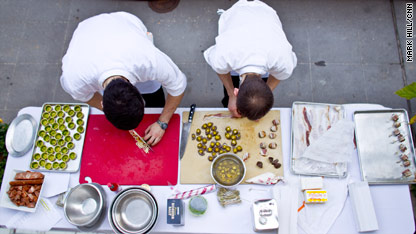 Venison-jalapeño popper straight out of the deep fryer. Along with seafood, New Orleans' cuisine heavily incorporates game meat like venison, as well as duck, rabbit and quail.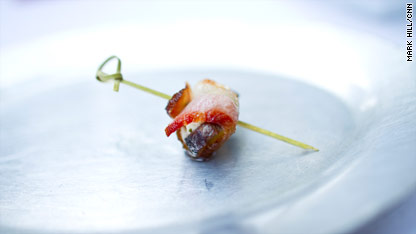 Blue crab waits for its trip into the gumbo pot. Chef Besh made a conscious choice of using locally caught seafood like this and lemon fish to raise awareness that, despite the BP oil spill, Gulf seafood is safe to eat.
Mary Matalin asks guests to raise a toast to the "First Lady of Food," Leah Chase. Chase is the chef of the legendary restaurant Dooky Chase, an influential gathering spot during the Civil Rights Movement and post-Katrina.
Chef Besh plates the Gulf lemon fish crudo with Becnel's local blood oranges and a ghost pepper caviar vinaigrette.
Besh serves fried oysters from P & J - the nation's oldest oyster wholesaler. As Carville put it, "It's a good day when you eat fried oysters ... twice."
James Carville listens in as the table discuss the merits of a good roux - and how essential the making of it is to a good gumbo.
"Mad Men" actor and local interior designer Bryan Batt talks with Mary Matalin about the New Orleans' tradition of absinthe.
Chef Besh serves up the Carville family gumbo recipe. "There's nothing worse than cold gumbo," Carville says as he urges folks to dive right in. As for whose gumbo is the best, the table agrees: it's always your momma's.
Next course, a Mangalitsa pork belly "hot pot." As Besh explained, the term "fusion" is thrown about but New Orleans' food is exactly that - a melting pot of African, French, Spanish, Native American, German, Italian and Cajun influences. He considers this his culinary tribute to the Vietnamese community in New Orleans.
For the final savory course, it's roasted wild venison loin, McEwen and Sons grits, market greens and Ponchatoula strawberries. Ponchatoula, Louisiana is the "Strawberry Capital of the World". As for the grits - one guest unashamedly asked for a Ziploc bag of it to take home.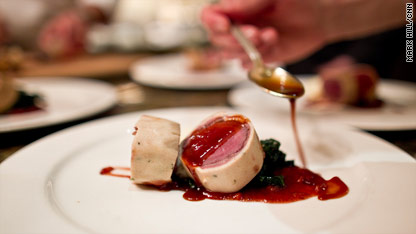 Let them eat cake! Last course is a deconstructed version of the classic Southern hummingbird cake, with braised pineapple, pecans and cream cheese ice cream. Is that a hum of delight we hear?

As the guests finish up their dessert and bid adieu, we hope you'll continue the conversation in the comments - there's a whole lot of New Orleans to chew on.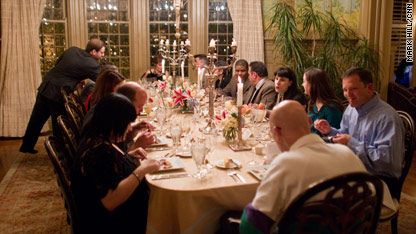 Follow @eatocracy and #CNNsupper on Twitter to catch up on even more action.