The Vintage Cookbook Vault highlights recipes from my insane stash of books and pamphlets from the early 20th century onward. It's a semi-regular thing.

Look at you, gettin' all fancy pants with your...your...CROWNS and your FRANKS! Calling it a "hot dog" or a "wiener" is juuuuuust not swanky enough for you any more. And yeesh - not just one kind of canned corn, but two. TWO!

We're gonna be over here in the corner with our plain ol' Oscar Meyer tube steak and store brand ketchup, but you go right ahead with your highfalutin frank crown. Just you try and not get any on your hostess pajamas. They're silk, right? 'Cause YOU'RE SO FANCY!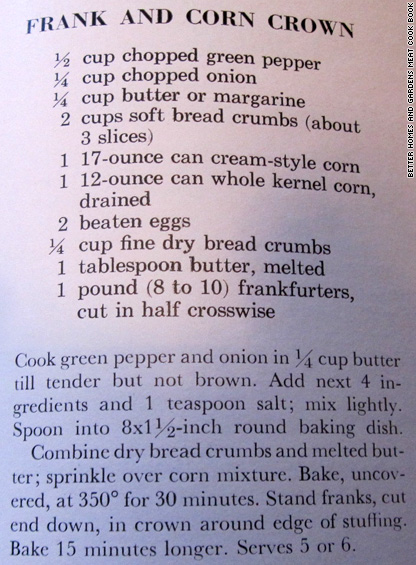 Scanned from Better Homes and Gardens Meat Cook Book - 1965
Seriously, if you have a blog and you make this at home, we will totally feature you. Leave a link in the comments below.