5@5 is a daily, food-related list from chefs, writers, political pundits, musicians, actors, and all manner of opinionated people from around the globe.
While many of us were cramming our gullets on January 1 with Hoppin' John and collard greens for wealth in the New Year, many folks of Chinese descent like Chris Yeo, the chef/owner from XINO|SINO and The Straits, will be waiting to get lucky until the first day of the Chinese New Year celebration.
Lunar New Year is a special time of year for many. "Chi fan le mei you?" or "Have you eaten yet?" is the most common greeting heard during the celebration of the Spring Festival, also known as the Lunar New Year throughout the West. Many of the traditions of Lunar New Year center around food either being cooked or eaten. To people who trace their roots back to China, the most important date in the lunar calendar is New Year - it's a traditional time for feasting with family and friends that dates back thousands of years.

"Lucky" foods are served through the two weeks of the Lunar New Year celebration. The Chinese like playing with words and symbols so often homonyms, or words that share the same pronunciation but have different meanings, are used. Names of dishes and/or ingredients that are served usually sound similar to words and phrases referring to wishes expressed during the Lunar New Year. Almost every dish has a symbolic meaning or name that sounds like a Chinese characters for fortune, happiness, longevity and prosperity.

The offering of food serves to bring ancestors and other beings in the other world closer to oneself. The food offerings serve as a bonding tool to bring both worlds together. To ensure good luck throughout the year, the Chinese also give a special name to each dish. For example, a dish made up of five elements of the same kind (meat or vegetables) might be called "the five blessings of the new year," referring to longevity, riches, peace, wisdom and virtue.
Five Lucky Foods for Lunar New Year: Chris Yeo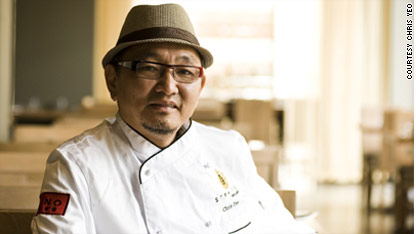 1. Noodles
"Noodles are often considered a symbol of longevity in Chinese culture. Long Life Noodles are just that in the Chinese culture. The noodles signify a long life to the person consuming them. Because of this, the noodles are never cut or shortened in the belief that it would be bad luck and would shorten that person's life. They are served long and whole, like other foods served during the Lunar New Year since the Chinese also believe that presenting food whole is symbolic for 'completeness.'"
2. Whole fish
"In China, a fish served whole is a symbol of prosperity. It is customary to serve the whole fish last, pointed toward the guest of honor, and serving a fish at the end of the meal symbolizes a wish for abundance in the coming year. Fish also has symbolic significance because the Chinese word for fish, yu, sounds like the word for riches or abundance, and it is believed that eating fish will help your wishes come true in the year to come. The fish is never eaten completely since leaving some behind hints at the family's ability to 'always have enough.'"
3. Dumplings
"Dumplings are considered a particularly lucky food to serve on the Lunar New Year. They are thought to signify wishes for a large and prosperous family. Dumplings resemble the ingots that once were China's currency, so eating them brings hope of an auspicious and fortunate year. Some cooks even stuff a lump of sugar in a dumpling to ensure sweetness, and sometimes, a coin is hidden inside. If you don't break a tooth, you're considered lucky for the year.
Dumplings seem to have been around forever - visitors can see fossilized dumplings found in an ancient tomb at the Turpan Museum in the Xinjiang province. However, their origins remain shrouded in folk tales. During the Han dynasty, it is said that Zhang Zhongjing, one of China's most revered doctors, treated patients with frostbitten ears with a tonic of medicinal herbs and lamb wrapped in dough. He also fed his patients a soup containing two dumplings that were said to resemble a pair of ears. "
4. Lettuce wraps
"The Cantonese word for lettuce sounds like rising fortune, so it is common to serve lettuce wraps filled with other lucky food. To turn this into an even more symbolic dish, sometimes dried oysters are substituted for the chicken meat (dried oyster sounds like the word for 'good'). Other items that can fill the wraps are lucky peanuts or noodles. Both signify longevity. The lettuce wrap is seen as 'growing wealth' or and is a very common food during the festivities. These are commonly served at the beginning of the meal to aid in the luck of a prosperous year."
5. Fruit: tangerines, oranges and pomelos
"Tangerines and oranges are passed out freely during Lunar New Year as the words for tangerine and orange sound like luck and wealth, respectively. As for pomelos, this large ancestor of the grapefruit signifies abundance, as the Chinese word for pomelo sounds like the word for 'to have.' Pomelos symbolize abundance and prosperity. Tangerines and oranges, symbols of abundance and happiness, and are a must-give gift when visiting family or friends during the two-week long New Year celebration. Tangerines with leaves intact assure that one's relationship with the other remains secure. For newlyweds, this represents the branching of the couple into a family with many children."
Is there someone you'd like to see in the hot seat? Let us know in the comments below and if we agree, we'll do our best to chase 'em down.