Sam Meyer is an editor at CNN and blogs about cocktails at cocktailians.com. The boy knows his 'nog. December 24 is National Eggnog Day.
The holiday season is far too often a contentious time: which set of relatives to visit, who to host, how to navigate schlepping to all the parties, white or colored lights, whether you put a star or an angel on top of the tree. For my money, one of the most divisive issues is that of eggnog.
Yes, eggnog. It can vary wildly in textures and flavors. Everyone's familiar with the annato-colored, too-thick, pasteurized sludge sold in cartons in the grocery store. When I bought that stuff, I would cut it with milk, as I kept envisioning that goo going straight into my arteries, exactly the same consistency as it came out of the carton. It didn't actually make it any healthier, but it wasn't quite as gooey. We've heard about the history of eggnog, but what's the best recipe for making your own as well as all the equally tasty variations?

In one corner: my favorite recipe for eggnog. Cocktail blogger and ace bartender Jeffrey Morgenthaler's recipe is simple, fairly light in texture and has an intense, eggy flavor tempered with brandy and spiced rum. You make it in the blender, and it's a snap to put together. Just don't use a commercial blender, as it can heat the contents. Sweet scrambled eggs don't make a tasty holiday treat.
In the other corner: my mother. Her favorite recipe is from Mary Meade's Kitchen Companion by Ruth Ellen Church, published by the Chicago Tribune in 1955. (My mother used to work for the Trib's food section, and many of our favorite family dishes come from the recipe files there.) This is heavier and rich, and the orange liqueur really brings out a nice spin on the traditional eggnog taste. You also want to plan ahead with this one, as it's best when made 24 hours in advance:
Old-School Eggnog

6 large egg yolks
1 cup sugar
1 cup rum
1 cup orange liqueur (I'd use Grand Marnier, as it's made with a Cognac base)
1/2 cup Cognac or other brandy
1 1/2 quarts milk
3 cups whipping cream, whipped
6 large egg whites, beaten stiff but not dry
Nutmeg to taste

In a large mixer bowl, beat egg yolks until very thick, light, and lemon-colored. Gradually beat in sugar. Gradually beat in rum, orange liqueur, and Cognac. Refrigerate 1 hour, stirring occasionally.

Beat egg whites until stiff but not dry and beat whipping cream. Add milk slowly to egg yolks. Fold in whipped cream and beaten egg whites. Store covered in refrigerator at least 1 day before serving. Fold risen whites and cream through before serving and sprinkle with nutmeg.
This business of separating the egg whites from the yolks is an old one, going back to the 19th century at least. In the 1862 edition of How to Mix Drinks, or the Bon-Vivant's Companion, the first American bartending book, ur-bartender Jerry Thomas gives a recipe for Tom & Jerry, which he refers to as his own invention. However, as beverage historian and mixologist David Wondrich points out in his book 'Imbibe!', similar recipes saw print as early as 1827, and there are multiple references to Tom & Jerry throughout the 1830s and 1840s in various New England publications.
But what is Tom & Jerry? Let's let Damon Runyon describe:
This hot Tom and Jerry is an old time drink that is once used by one and all in this country to celebrate Christmas with, and in fact it is once so popular that many people think Christmas is invented only to furnish an excuse for hot Tom and Jerry, although of course this is by no means true.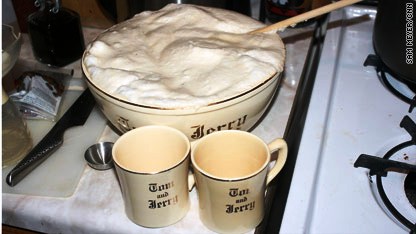 This hot eggnog variation was all the rage throughout the second half of the 19th century. As Wondrich puts it in 'Imbibe!':
From after the Civil War until the late 1880s, come the cold weather in October or November, every saloon worth wrecking with a hatchet would get down the china Tom & Jerry bowl . . .and the newspapers would start making spavined jokes about Thomas and Jeremiah, 'two well-known sports' who had just showed up in town and 'whose acquaintance should not be cultivated too deeply.'
The drink fell out of favor eventually, and the New York Sun declared it "to have vanished as absolutely as the dodo" by 1902. (The Sun was wrong, incidentally - people still drink Tom & Jerry in parts of the Midwest, and you can even get premixed versions in Wisconsin.)
As noted above, you separate the yolks and whites and make a kind of batter with the yolks, sugar, spices, and booze. Then you beat the whites and fold them into the batter. To serve, dollop a generous teaspoon of the batter into a mug, add rum and brandy and top with not-quite-boiling milk. A lot of work? Sure. Festive? Indubitably. I like the "Tom & Jerry & Audrey", the variation by Audrey Saunders of New York's Pegu Club. (I'd also follow Jerry Thomas's recommendation of adding some cream of tartar to stabilize the egg whites – a teaspoon per batch should do it.)
There are many other variations on eggnog: Melissa Clark recently published a Butterscotch Scotch Eggnog in the New York Times, and a custard version. The Times also compiled some more variations here.
And I would be remiss if I didn't mention coquito, a Puerto Rican eggnog-like drink made with coconut milk. (I don't even especially like coconut, but must admit to appreciating the old Pepsi bottle full of coquito that one of my girlfriend's colleagues sneaked her last year.) Coquito is a big deal in some places – the International Coquito Federation, together with El Museo del Barrio in New York City, is even hosting its 9th annual Coquito Tasting Contest this Saturday, where they will confer the much-sought-after title of Coquito Master.
And it's not a nog, but there's the thick, creamy Middle Eastern beverage sahlep (aka salep or sahlab), which is made with milk and powdered orchid root. Street vendors in Istanbul sell servings of sahlep from backpack-mounted hammered-copper tanks, and the hot, sweet, cinnamon-y concoction is just the thing on a cold day. You can find sahlep powder in Middle Eastern specialty stores.
Another variation combines a couple of holiday tastes: eggnog and mulled cider. It sounds odd, but none other than President William Henry Harrison was reportedly a fan of an egg shaken up with hard cider and a bit of sugar. The combination is surprisingly good, with the egg adding richness to the cider's acid bite. A couple of years ago, I tinkered with the ingredients a little while keeping the egg and cider underpinnings, and came up with the festive Tippecanoe Sparkler:
Tippecanoe Sparkler

1/2 oz. rum
1/2 oz. brandy
1/2 oz. allspice dram
1 large egg
2 dashes aromatic bitters
Sparkling cider

Shake all ingredients except the cider with ice, and strain into a chilled flute. Top up with cider and stir gently, and garnish with grated nutmeg or star anise.
And, I've saved the best, or at least one of my favorites, for last. My grandmother didn't make eggnog, but she did make Southern Boiled Custard. (Custards differ from classic eggnogs in that the eggs are cooked.) This custard is a beverage, not a set custard as in a custard pie, but it's still rich and wonderful.
Grandma Bonnie's Southern Boiled Custard

2 eggs
1/2 cup sugar
1 tbsp flour
1 quart milk
Whiskey

Beat eggs well; add sugar and flour and mix together till smooth. Stir in milk and cook very slowly over low heat (a double boiler is great if you have one large enough) until mixture almost boils and thickens. Add dash or two of nutmeg and whiskey to taste. (when my late grandmother served this to me as a kid, there was needless to say no whiskey included. I was surprised to discover it in the recipe now!) Serve warm in glass or cup, and optionally top with whipped cream.
Incidentally, all of these festive holiday drinks benefit from some freshly-grated nutmeg sprinkled on top. And you don't even have to worry about the hallucinogenic properties thereof – just make the portions reasonable.