Disclaimer: No editors were harmed in the making of this blog post. ... Except maybe their egos.
In the name of journalism and science, I - or more specifically, my liver - am taking one for the team.
Wednesday afternoon, the Food and Drug Administration announced the results of its safety review of caffeinated alcohol drinks, and whether or not to ban them. The announcement came with increasing pressure after a media firestorm erupted in October because nine students at Central Washington University were hospitalized after consuming the caffeinated alcoholic beverage, Four Loko.
According to the the CNN Wire Staff:
The U.S. Food and Drug Administration told the manufacturers of seven caffeinated alcoholic beverages Wednesday that their drinks are a "public health concern" and can't stay on the market in their current form.

"FDA does not find support for the claim that the addition of caffeine to these alcoholic beverages is 'generally recognized as safe,' which is the legal standard," Sharfstein told reporters. "To the contrary, there is evidence that the combinations of caffeine and alcohol in these products pose a public health concern."
Thus far, Michigan, Oklahoma, New York, Washington and Utah have taken action to remove the drink from state stores. Eatocracy's own home base of New York will stop receiving shipments of the controversial "blackout in a can" on December 10.
With the impending Food and Drug Administration ban, Phusion Products, the beverage company behind Four Loko released the following statement late Tuesday evening:
Phusion Projects today announced the company's intent to reformulate its products to remove caffeine, guarana and taurine nationwide, saying it has taken the necessary steps to do so and is informing its employees and distributors of the plans. Going forward, Phusion will produce only non-caffeinated versions of Four Loko.
To fulfill a food editor's morbid curiosity, I decided to turn to Patron Saint Loko - Eddie Huang, the chef of New York City restaurants Baohaus and Xiao Ye. Huang is one of Four Loko's biggest fans, and even announced a Four Loko Happy Hour special - that is, until he was informed "all-you-can-drink specials" were illegal. In any event, he's got a lot of the loot - and willing to share.
From here, we're boldly going down the road less traveled. How will it taste? What are the effects? Check back here later as I blog and video my adventure (under the watchful eye of our managing editor, Kat - safety first!). All I can say is thank god for spell-check.
Update: Why yes, there is video currently being edited, and @sarahletrent has just Tweeted: Four Loko verdict: my brain feels like it's playing Pong. Stay tuned.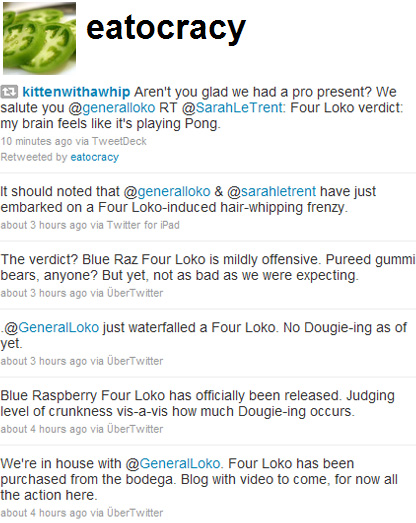 At midnight, approximately seven hours after I set sail on my maiden voyage aboard the SS Four Loko, my resting heart rate is at a mere 103 beats per minute. And yes, this is after a three-hour power nap.
The effects of ingesting the 23.5 ounce can of flavored malt liquor, with an alcohol content of 12 percent, is said to be equivalent to that of drinking three beers and three cups of coffee. This could explain the stark contrast between my current state of palpitation and a woman's normal resting heart rate of a measly 70 to 80 beats per minute.
Wait – what was I talking about?
Oh yeah, Four Loko.
I tried two flavors with Eddie: Blue Raspberry and Fruit Punch. At the sake of losing (more) food writer cred, I'll admit the Blue Raspberry flavor was not nearly as offensive as I had expected. I still wouldn't go out of my way to enjoy it – but hey, it didn't make me gag.
It tastes just as you would expect freshly picked blue raspberries from nature would: blue, razzy, sugar-sweet with a slightly sour bite at the end. If you (A) have a penchant for puréed gummi bears, Sno-cones or Jolly Ranchers, or (B) have the last name "Wonka," this Bud's for you.
On the other hand, the Fruit Punch tasted like a tropical island where dreams go to die. It evoked equal parts Hawaiian Punch and St. Ides, and I could only muster a sip before moving on. Some things aren't worth going loco for.
As I finished my first and sole can, I encountered a slight tingle in my cheeks and the dwindling down attention span of a goldfish. About a half-hour after that, it suddenly felt like the band Sugarcult had taken permanent residence in my cranium - and yes, they were bouncing off the walls again.
I can't go so far to say that I was even drunk, but more wack-a-doodle from caffeine - and this is coming from a girl who chugs coffee on a regular basis. An inebriant? Maybe. A stimulant? Most definitely.
So, would I do it again? Probably not. But in the name of science: I came, I saw, my synapses got conquered.
Editor's note: As a camera-holding witness, I'll attest that Sarah was remarkably composed, and did not at any point seem intoxicated - just a tad caffeinated. And I'm extremely sad that you won't get the see the Dougie-ing that ensued. For it was righteous. - Kat
[youtube=http://www.youtube.com/watch?v=RcROHu6QTQs&fs=1&hl=en_US&w=416]