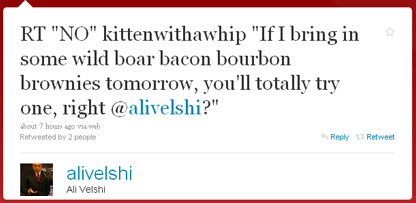 UPDATE: We achieved Gergening. He ate a brownie and could not have been lovelier. Our work here is done.
Well we NEVER! And Ali Velshi just stopped by Eatocracy HQ to register his disgust at the notion IN PERSON. We're chalking it up to, as we mentioned before, his being Canadian and thus perhaps more receptive to, say, moose meat.
Nonetheless, we figured our pals at CNN Politics are in it for the long haul tonight and might need a treat. We've tweaked our managing editor's signature bacon bourbon brownie recipe to ditch the booze soaked pecans to lower the alcohol content (these folks have gotta talk all smart on air and whatnot) and minimize allergy issues, as well as swapping the standard hog bacon for uncured, smoked wild boar bacon - for fanciness' sake.
Early indications from colleagues who have sampled indicate that we will indeed be winning hearts and minds tonight through the sheer force of sugar, butter and the fat of feral swine, but we won't know for certain until we manage to coax a grin from David Gergen. Wish us luck, won't you?
Here's the recipe.

Eatocracy's Election Day Boar Bacon Brownies
1/4 lb smoked boar bacon
8 oz butter
10 oz baking chocolate
1 cup granulated sugar
1/2 cup firmly packed brown sugar
5 large eggs
Freshly-ground black pepper
1/4 cup unsweetened cocoa powder
1/2 tsp smoked salt
1 1/2 cups flour
2 tsp bourbon
Preheat the oven to 350F.
Cook the bacon over low heat until it is very crisp, drain off the grease and set aside. Pat the bacon dry with paper towels, crumble into tiny pieces, chopping in food processor if possible. Set aside.
In a double boiler, over simmering water, combine the butter and chocolate. When the mixture is nearly melted, remove it from the heat and stir together until blended. Pour the mixture into a medium-sized bowl and let it cool to room temperature.
Once the chocolate mixture is cool, add the granulated sugar, brown sugar, several grinds of black pepper, smoked salt, eggs and bourbon and whisk well to combine.
Add the cocoa powder and stir until thoroughly incorporated. Then stir in the flour 1/2 cup at a time, making sure it is thoroughly incorporated before adding the next portion. Stir in the bacon.
Use the reserved bacon grease to lightly coat an 8×8 baking pan, and pour in the batter. Bake 25-30 minutes, or until a toothpick inserted near the edge comes out dry, but inserted near the center, comes out lightly coated in batter. Let the brownies cool, and cut into squares to serve.