You're at work and lunch time rolls around. You've been responsible enough to brown-bag it to eat healthier and possibly save money, but then, you start peeking around.
Your desk mate's lunch looks far more appetizing than what you've sloppily tossed together for yourself. It's a scene that plays out from childhood lunchrooms all the way to your cube at work. Co-workers Callie and Tommy decided to rekindle their love of lunch by trying a three day swap.
Callie and Tommy established a few simple rules to their lunch swap:

1. No smelly foods - you don't wanna be that guy at work.
2. Nothing that completely repulsed either of them. For Tommy, it was mushrooms and for Callie, red peppers.
3. For three days they would bring in lunch for each other and use retro-style lunch trays because festive presentation somehow makes food so much more appetizing.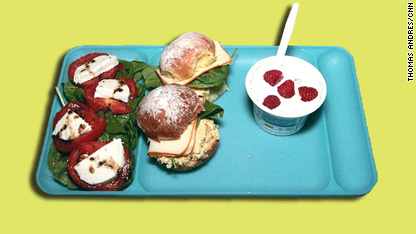 Day One
What Callie made for Tommy
"When I make food for someone else I put so much extra time and care into it. I think we were actually both a little nervous about making food for the other person. Is my prosciutto sandwich going to live up to his chicken curry sandwich? I made mine this morning; are the tomatoes going to make the bread soggy? Performance anxiety!"
Tommy's Take
"Callie's sandwich was salty and delicious - especially the pancetta on the rosemary bread. Bread really makes a sandwich. My only complaint was that the tomato was a bit mushy because she had put it on the sandwich at home and tossed the whole thing in the fridge."
"I think tomatoes are better if you wait and cut them at work. Just use them for both your sandwich and your salad. Callie apparently loves fruit, so I was given both white and red grapes, and a few slices of some sort of fancy watermelon. The fruit was great, but I think I ruined my shirt spitting seeds onto my plastic tray. Apparently they bounce. All in all a great lunch, and definitely something new."
What Tommy made for Callie
"I've never really made a good chicken salad, but I figured since I wasn't eating it I would experiment. Callie could be my gastronomical guinea pig. I threw together the chicken salad with canned chicken, which I find actually tastes better than fresh believe it or not, and mixed in some mandarin oranges and curry."
"I also made a Caprese salad with fresh mozzarella and Roma tomatoes which are dirt cheap and taste less "tomatoey" than most. I mixed a little oil and vinegar with some basil, garlic salt and pepper for dressing and tossed it all on spinach. Spinach is the key to all my lunches. Those lettuce bags rot in a day and spinach has some sort of mutant capability that seems to make it last forever. Plus it's healthier than most other lettuces."
"To finish it all off I tossed some raspberries on some Greek yogurt. I don't really get Greek yogurt, but it's all the rage and I love a good bandwagon."
Callie's Take:
"I'm pretty sure Tommy snuck into my kitchen and took notes on 1. the obscene amount of yogurt I consume and 2. the lack of fresh veggies...or the presence of rotten ones. This made the Caprese Salad all the more fitting for a girl who just can't seem to keep fresh vegetables from going bad.
"The same goes for the yogurt that was dressed up with a bit of honey and raspberries. It was a perfect way to satiate my sweet tooth without sending me into a total sugar coma. As for the curry chicken salad with Munster cheese - that was maybe a bit of an odd combo - but piled on cheerful little potato rolls turned out to be quite tasty."
"What I didn't expect was how lovely it was to eat lunch that was made just for me. I ate slowly and enjoyed each yummy bite—especially the tart pop of raspberry added to my yogurt."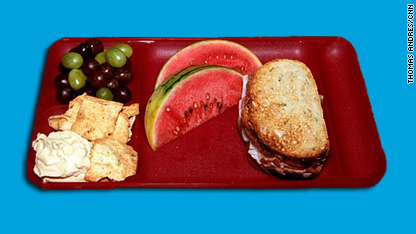 Day Two
What Callie made for Tommy
"I pre-planned all my menus the weekend before so the fact that we both made chicken salad just means that chicken salad rules. I put a little twist in my chicken salad and added Greek yogurt to cut down on fatty mayo and give it a little tang. I also painstakingly peeled and sliced two perfectly ripe tender Georgia peaches. I was going to have an issue with Tommy if he said he didn't like peaches, because if you have ever had a ripe Georgia peach, you know that they ooze the nectar of the gods."
Tommy's Take
"Callie packed her chicken salad in pitas. It was REALLY good. She put grapes in it and used spicy mustard and yogurt, which gave it a cool kick. For sides she stuck to her old standby and gave me sweet Georgia peaches - which for some reason are really hard to find in Georgia - and blueberries and sliced apples with cheese. I had only seen this done in a cheese commercial once, but it was delicious. It made me feel European, even though I think some of the cheese was American."
What Tommy made for Callie
"One word (that should be two): EverRoast chicken. I don't know what Boar's Head does to the stuff, but it's all I buy. I tossed together a sandwich with this lunch meat as well as some sliced avocado, Munster cheese and bacon I tossed in the microwave. I buy generic store-brand bacon because it's the thinnest and microwaves the best; just toss it in with a bunch of paper towel for a minute on each side. (Apologies to any vegetarians at work - the break room will reek like pork for hours.)"
"For sides I globbed some hummus on the tray with some carrots then tossed together a salad with the spinach and raspberries from yesterday and a little gorgonzola and champagne pear dressing."
Callie's Take
"I have to admit, I was a bit hesitant about the microwave bacon on my sandwich, but it was delicious. My salad was so fresh because the ingredients were in separate containers so they wouldn't get soggy the night before. The bread was a bit overly bready and dampened some of flavor of the bacon and turkey. Tommy later disclosed that the bread may or may not have expired."
Day Three
What Callie made for Tommy
"I maybe spent a bit more time on the gnocchi than anything else, but it was leftovers from the night before. However, I think there's a huge difference between homemade leftovers and some soggy takeout that's been floating around the back of the fridge for who-knows-how-long. I put some serious love into my gnocchi and didn't skimp on the gorgonzola sauce. You just can't muck up Italian cooking with lower calorie substitutes."
Tommy's Take
"Callie went all out for the last day. Gnocchi is my favorite, and she tossed it with some prosciutto, chicken, basil and a nice light cream sauce. Delicious. She complemented the Italian dish with a Caprese salad which was delicious (but seriously, Callie, stop copying me.) The toasted walnuts she added really made it pop. She also mixed some fruit and yogurt, though she avoided the Greek variety – Callie is free of food pretentions."
What Tommy made for Callie
"I'm only one person and lunch is my big meal, I like to throw some stuff in a crock pot at night and wake up to the smell of pot roast in the morning. Then I take it to lunch. Callie was the beneficiary of my crock pot creation, which was just store-bought gravy, onions, carrots, potatoes and pre-cut chunks of meat. It's not pretty, but I think it's pretty delicious.Since that meal had veggies and sides in it, I just played to Callie's produce soft spot and threw together a little fruit salad with the leftovers from the other meals."
Callie's Take
"The beef stew that had been slow cooked overnight tasted just like something from mom's kitchen - before the advent of the microwave that is. The only issue here was its rather disgusting appearance. Several of my co-workers delicately asked of the brown glob on my lunch tray, what is that? I, however, proudly defended my gross looking but rather yummy home cooked pile of deliciousness."